Megan Thee Stallion Pens Final Word on Tory Lanez Shooting
''We must protect all women," the rapper said while writing about the violence she experienced.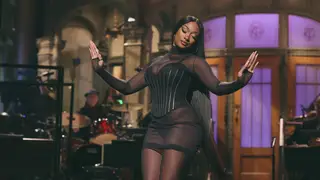 To say Megan Thee Stallion had an arduous year would be an understatement. But as a survivor of violence, she's no longer staying silent. In a poignant essay featured on the cover of Elle's May 2023 issue, Megan Thee Stallion identifies herself as a "survivor," reflecting on the traumatic incident from nearly three years ago when Tory Lanez shot her.
"When the guilty verdict came on Dec. 23, 2022, it was more than just vindication for me, it was a victory for every woman who has ever been shamed, dismissed, and blamed for a violent crime committed against them," Megan wrote in her personal essay published Tuesday.
Tory Lanez, legally known as Daystar Peterson, was convicted in December for three felonies related to the 2020 shooting that left the hip-hop star injured with bullet fragments in her feet. According to a criminal complaint, Lanez discharged a firearm at a victim referred to as "Megan P." after she exited an SUV during a dispute in the Hollywood Hills.
Megan Thee Stallion became the subject of severe scrutiny in the years leading up to the trial. People labeled her a liar, and as the trial unfolded, we saw that even her best friend stabbed her in the back.
"Even some of my peers in the music industry piled on with memes, jokes, and sneak disses, and completely ignored the fact that I could have lost my life," she wrote.
"Instead of condemning any form of violence against a woman, these individuals tried to justify my attacker's actions," Megan added.
Read the full essay here.