All I Want For Christmas: Nicki Minaj In Glitter Pasties
And now we got it.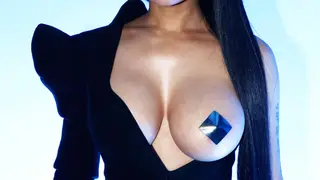 It's no fair playing favorites, so luckily when she got pasty-happy this time, she let both of the twins out for some air.
Nic was so kind as to treat her Barbs to a behind-the-scenes shot from her Paper Magazine break-the-internet cover shoot. You know, the one with the legitimate Minaj a trois?
Welp, this pretty much speaks for itself. Thanks for stopping by! Have a fun and safe weekend, from your friends at BET!