Big Scarr, Gucci Mane Label Signee, Dead At 22
Gucci paid tribute to the artist on Thursday.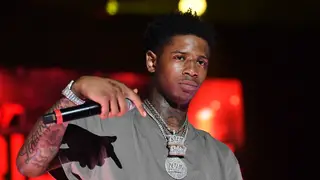 Big Scarr, a Tennessee rapper signed to Gucci Mane's label 1017 Records, has died at just 22.
Scarr's death was confirmed in a social media post made by the label boss himself, who shared a photo gallery of the late wordsmith.
"This hurt 😢 I'm a miss you @bigscarr 💔," Gucci captioned the Instagram post.
A cause or time of death has not yet been made public.
Part of the XXL Freshman class of 2022, Scarr, born Alexander Woods, first broke into Hip Hop nationally in 2020 after signing to Gucci's label. His first commercial project was the New 1017 compilation album Gucci Mane Presents: So Icy Summer with "SoIcyBoyz," which he performed alongside labelmates Pooh Shiesty and Foogiano. He also had the solo song "Make a Play."
A year later, Scarr released his debut and only mixtape, The Grim Reaper, with appearances by Gucci Mane, Pooh Shiesty, Foogiano and producer Tay Keith.
In 2020, Big Scarr nearly died after getting shot in the hip with the bullet traveling up to his spine. According to Revolt, the shooting resulted in serious internal injuries, which required doctors to remove his appendix and realign his right leg.