Director's Cut: Sanaa Hamri is Crafting Fantasies and Shaping Worlds
The Moroccan director has traveled from the world of music videos to the fantasy genre in "Wheel of Time."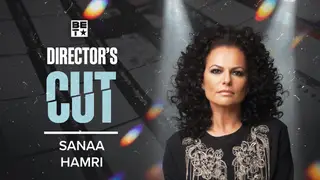 In the world of filmmaking, there are those whose artistic vision transcends boundaries. Sanaa Hamri, a visionary director known for her profound vision, is one such creative force. In this Director's Cut feature, we'll delve into her groundbreaking foray into the fantasy genre in season two of "Wheel of Time" streaming on Amazon Prime, and the incredible journey that has taken her from Morocco to collaborating with music icons, from Jay-Z to Mariah Carey, and even working alongside the late, great music superstar, Prince.
Hamri's story is a testament to the power of perseverance, and her work continues to captivate audiences worldwide. Let's explore her extraordinary career, contributions to the world of entertainment, and role in shaping the future of fantasy storytelling.
BET: "Wheel of Time" is incredibly diverse. Can you talk about the importance of showing diversity in the fantasy genre?
Sanaa Hamri: Absolutely. Coming off of "Empire," I was the executive producer and director for all seasons; when I was looking for my next project, I wanted to expand into something with more fantasy and high visuals. I was drawn to shows that I feel like people of color are reflected in. I feel like I can see myself in "Wheel of Time." So that's what struck me when I was sent the first season; not only was the story great, and I thought the worlds were amazing, but I loved how the show was cast. It just felt effortless; it didn't feel planted. Coming off of "Empire," especially in my brand, I only want to be part of projects where everybody is reflected equally. U think we are in a place in which we need to have a diverse amount of content that's not just self-reflected about race; it's about other things. You can see on "Wheel of Time," it's extremely inclusive. It doesn't feel like a forced hand, which we don't want. As a filmmaker, I fit in naturally and want to be part of it and want to put in all my love, my efforts and all my directorial skills in it because fantasy shows are extremely complicated. It takes a lot of time. It takes a lot of effort. It's very technical. In my career, I always ask, "What type of time am I putting in content?" The content has to be right.
BET: You are from Morocco. How has Morocco shaped your love for filmmaking?
Sanaa Hamri: Morocco is such an interesting country, where it is; geographically, we're in North Africa; I was born and raised in Tangier. My father was Moroccan, and my mother was American. So I was in a mixed culture. I saw the power dynamics of classism and skin tonality at an early age. We were colonized by Europe, and then we gained independence in 1957. I'm very pro-Africa, very pro rising above and not being controlled by a Western power. So, Morocco definitely influenced me. When I came to college, I came to New York, and went to Sarah Lawrence College; I had a minority scholarship there. When I graduated, I got immersed into hip-hop. So, in my filmmaking, not only did I have my whole Moorish, African culture behind me as a person, but New York helped me grow as a filmmaker. I was an editor, and then a music video director. I learned a lot about filmmaking through my contemporaries, like Hype Williams. When I started directing, I was directing rap videos and getting a sense from Ja Rule to Jay Z, then I got in with Mariah. 
My eye was completely immersed and trained through the hip-hop lens of the mid to late 90s to the early 2000s. So that's kind of my background, there's that energy, the renegade energy of hip hop in my filmmaking. No matter what I do, that truly is the essence of who I am. Between my country, Morocco, and hip hop, that has formed me into a visual filmmaker, and who I am as a person. Then, going into this fantasy genre, it is a great fit. I'm at a great studio; Amazon really takes a leap of faith on talent and does not put you in a box. It's been quite the ride!
BET: You worked with Prince for many years. When I was watching "Wheel of Time," I thought, "I think Prince would really like 'Wheel of Time.'" What did you learn from working with Prince that still sticks with you today?
Sanaa Hamri: I was Prince's creative director from 2001 until he passed, almost 15 years of filmmaking with him. The first time I shot any dialogue scene was with him. I remember trying to figure out what to do with a lot of the dialogue and he was showing me. [Laughs] Remember, he was a director; he directed "Under the Cherry Moon." I was just used to shooting people singing and there was no audio. He was very much a mentor. It's funny, you should say that he would like "Wheel of Time" because we watched a lot of movies together. He had the vision of me doing fantasy shows way before I even started directing. He already saw it. When I got into film and television, he was at the premiere of all my movies. He knew and saw the skill set because I used to also edit with him. He knew I was very technical and visual. I think you're right because when I look at "Wheel of Time,"  I had that same thought. I was like, "I know he's gonna like that." He's in my head, because he's the longest person I consistently worked with to date.
BET: You also directed romantic comedies in the early 2000s, "Something New" in 2006 and "Just Right" in 2010. Can you take us back to that era of your career?
Sanaa Hamri: There was "Something New" and "Just Right." I was offered other stuff, but then I was like, "What would be the point of me not trying to make change?" In my music videos, I had shied away from certain types of music videos at that time. I want my work to mean something. I'm not disrespecting the other directors; it's just I have to have a vision of who I am for myself. So then, after that, when the movies started coming in, I was also given movies that were kind of like a "Soul Plane." I was not going to promote those types of imagery. So when  "Something New" was brought to me, I felt it was a great story because it talks about what an interracial couple has to deal with. The same thing with "Just Right." It wasn't about race, it was a romantic comedy, where Queen Latifah plays a nurse practitioner chiropractor who winds up helping this NBA player and they fall in love. I feel like the whole point is breaking barriers and moving on. We have to keep moving and break more barriers.
BET: We are all the directors of our own life. What does the director's cut of your life and your journey look like thus far?
Sanaa Hamri: I would say that I just started. My director's cut is at the beginning of the director's cut. My journey is really just starting for me as a filmmaker. I want to take it more global and international and have great content that's entertaining but uplifting and can take us outside of ourselves. But again, my director's cut is just starting.
Season Two of "Wheel of Time" is currently streaming on Amazon Prime.