Dee Goodz Talks Getting Shot at Fat Trel's Party, New Mixtape
"I just kept it real G," Nashville rapper says.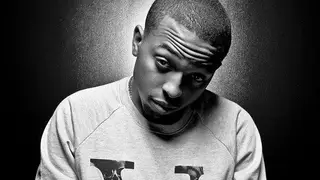 Nashville, Ten., might be the Mecca of country music, but rapper Dee Goodz is looking to put it on hip hop fans' radar with his latest mixtape Donny Cash. The independent MC already has earned a reputation as one of hip hop's elite up-and-coming storytellers with his visceral tales, and he's doing it repping the Volunteer State to the fullest (though he's moved to New York to be closer to the industry).
Dee spoke to BET.com about the new mixtape, the move, and the fateful September night that left him with a bullet in his leg.
What inspired you to pick up and move to New York?
You gotta go where they playin' ball at if you want to be considered a real ball player. Cats can hoop overseas if they want to, but you ain't really ballin' unless you in the NBA ... I grew up listening to dudes like Jay Z and Nas, so I knew if I can get it crackin' in New York, I can get it crackin' anywhere. Also my whole movement is D-I-Y. I like to have control and New York just allowed me to have power to myself.
Are you looking to stay independent or do you think you might go the major label route?
If that was on the table and it was a good opportunity for me to grow my brand, for me to gain more fans and make money, I'm wit it. But if it ain't good for me and my team, then we'll just continue doing us ... I really can't have somebody doing business for me that really doesn't care about my success, 'cause as a rapper, this is our life, this is how we eat. For somebody that just does marketing or works at a label, they can just be like, "I can just get another job if this doesn't work out." As a rapper, my face is on it so once I look corny to the world then I can't make no money no more, so you gotta do it yourself cause you gotta be in control of your own situation and your own brand.
There were rumors that you got shot at Fat Trel's mixtape release party in September. Is that something you can talk about?
Yeah, I definitely got shot at SOB's, straight through the leg. I was hit by a stray bullet. I just kept it real G and haven't really been doing interviews about it. You're the first person I'ma explain this to. Basically I was in the wrong place at the wrong time, I should've had my head on a swivel. Something unfortunate happened when I came in the club, and I was a victim. I don't know who the shooter was, I didn't see anything. I was in the club enjoying myself, waiting to see the show and ended up catching a bullet.
Did you ever go to the hospital?
I actually did some real like MacGuyver type sh-t. I ended up escaping out. There was a cab, I think my cab driver was actually on the news talking about this sh-t. So i just jumped in the cab, told him to take me to the hospital. There was blood all over the cab. He drives me to the hospital, here I am, as soon as I'm there, the hip hop cops are already stalking, waiting for somebody from SOBs to pop up 'cause they heard about it. So I walk in, they ask, "So what happened to you?" I'm like, "Yo, I fell. I don't know what happened, I ain't tryna answer no questions." And can you believe the cab driver still asked me for the 10 dollars?
Wild. On your new mixtape Donny Cash, you got a lot of props for your story-telling abilities, is that something that came from moving to New York?
I've always done this to give people vision. Artists I listened to growing up like Jay, Ron Isley, Kanye, all made music that affected me as a fan and I just wanna affect people that same way. To me the most creative story is my own. Nobody's lived my life, nobody has walked in my shoes, so being me is how I can be different from everybody else. I think I'd be cool without a mic, so why not tell my story? I'm from nothing. Two years ago I was working in the mall ... I just dropped the mixtape Donny Cash, I got the album Family, Friends & Money coming out in early 2014. It's strictly a vision like, "I'm just like you and if I can then you can too." Also, I want to put it on the record that I am educated, I'm very proud of that. I think that education needs to be more publicized among our people. I went to Alabama A&M University and graduated but that don't take nothing away from my skill as an artist, it just makes me a little more bossed up!
I know you've worked with [fellow Nashville MC] Chancellor Warhol, have you gotten to work with any other rappers that you looked up to?
Someone who inspired me, Dom Kennedy. I opened up for him before and he came down to a show and he kicked it with me on some homie stuff, like I actually had him in my Monte Carlo, rollin' to the show. We ate at the Waffle House. This dude is real. I threw a party that night, Dom was in the house party coolin'. People were looking at him like "Whoa" It was like the movie Project X that night.
BET.com is your #1 source for Black Celebrity news, photos, exclusive videos and all the latest in the world of hip hop and R&B music.