Django Unchained Actress Gets Community Service
Judge calls Daniele Watts' apology to LAPD "insincere."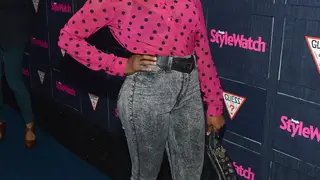 Daniele Watts, made famous for her role in the 2012 film Django Unchained, has been officially ordered to perform community service after a judge failed to believe her apologies to the police she accused of racially profiling her and her white boyfriend.
The Los Angeles Times reports that both Watts and her boyfriend, Brian Lucas, were sentenced to 15 hours of community labor on Wednesday (August 26).
The investigation began last September when officers questioned the couple over reports from onlookers that they were having sex in a car. Both Watts, an African-American woman, and Lucas, a caucasian man, claimed in the case that they were racially profiled.
They later pleaded no contest to disturbing the peace and were told to write apology letters to the LAPD. However, the judge didn't buy Watts' apology, where she called a police sergeant sarcastic and dismissive. After the judge told her to try again, the actress apologized for a "lack of emotional control."
The judge still went on to deem their apologies insincere. Watts tweeted this response:
BET.com is your No. 1 source for Black celebrity news, photos, exclusive videos and all the latest in the world of hip hop and R&B music. 
Click here to enter the #LookYourSundayBest contest for a chance to win FREE natural hair-care products.

(Photo: Mark Davis/WireImage)