Azealia Banks Slams Russell Crowe in First Interview Since Brawl – and Blames RZA!
She calls the Gladiator star a "racist, misogynistic pig."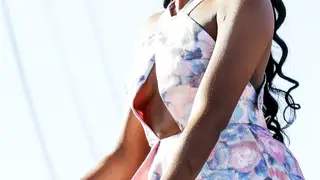 Azealia Banks is setting the record straight.
The rapper was involved in a hotel room fight with Gladiator star Russell Crowe over the weekend, prompting lots of conflicting reports about what went down between the two during Crowe's intimate listening party for a handful of guests.
Well, never one to stay silent, Banks spoke to The Sun to give her version of the story, calling Crowe a "racist, misogynistic pig." She even has something to say to RZA, who brought her as his plus-one to the party in the first place.
"I think he's a racist, misogynist pig," she told the paper. "This is a stain on me. My ­femininity feels stained. I feel stained as a woman, I feel mishandled, I feel mistreated, I feel dirty. I feel very f**king low."
Banks goes on to say that Crowe was drinking, smoking weed and flirting with her. He was reportedly touching her leg, complimenting her music and called her "beautiful." Later in the night, a woman — whom Banks presumed was Crowe's girlfriend — reportedly sat next to her to say "Russell thinks you're so hot," to which Banks replied, "You know, I'm not here for that."
Things turned sour, however, when she started teasing another guest, who was an aspiring filmmaker.
"Russell just kind of switched. He was like, 'Well you know what? You're young and you've never done anything in your career so you don't know what you're ­talking about,'" she said. "I'm a little offended but I was still keeping it light. I was like, 'Your best days are behind you.'"
The girlfriend then confronted her about her remarks, and Banks claimed she was the one trying to diffuse the situation. "I said, 'Girl, this is not the right time or place for us to be fighting, like what would happen if I got up and I slapped the sh*t out of you, or I took a glass and f*cking threw it at you and you were bleeding all over the place? I would be wrong and we'd all be wrong, and the party would be done,'" she recalls.
That's when Crowe allegedly grabbed Banks took her into the hallway. "He calls me a n*gger, and then grabs me, picks me up, he chokes me by the throat, picks me up, throws me out of the room and then spits on me," she said. "You don't just spit on somebody. And in front of everybody."
But Crowe and his cronies aren't the only people Banks is mad at. According to TMZ, she's pissed at her pal RZA, who brought her to the party in the first place, for not standing up for her in the debacle. Apparently, Banks was supposed to sign with RZA's label this week, but that deal is off — and so is their personal relationship.
But the Wu Tang leader isn't sweating it, sources say, and stands his ground that Banks was the one who was out of control that night.
Banks is still holding on to the "receipts" she promised to show on Facebook, so let's see if she can come up with some proof to back up her version of events.
Get the full back story on this random beef with BET Breaks, above.