Funk: Groove, Rhythm, and Revolution
James Brown may have been the "Godfather of Soul," but he would lead the charge for a new genre that would change music forever.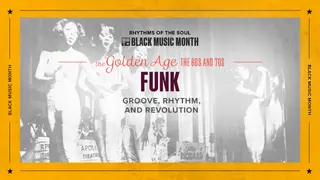 "I only got seventh-grade education, but I have a doctorate in funk, and I like to put that to good use." - James Brown 
Emerging in the late 1960s before reaching commercial peaks during the 1970s, funk music is characterized by many factors. Modifying elements of R&B and soul, funk featured syncopated bass lines, drum grooves, seventh chord variants and strong downbeats. More than just being danceable, it was a feeling or a vibe. Those early influences would see funk become an alternative art form during that period as the genres that influenced it also gave birth to mainstream disco.
"Funk is the root of the blues," Brown said in a 1988 SPIN Magazine interview. "It's soul, jazz and gospel. Funk is coming down on the one. If it's on the one, then it's funky."
Initially named the "Godfather of Soul," Brown established funk through high-intensity performances and rhythmic innovations. While most era pop and soul songs usually stressed the second and fourth beats, Brown focused on the first beat or "on the one." Those syncopated rhythms, intricate horn sections and repetitive bass lines would go on to define funk music through 1965 classics like "Papa's Got A Brand New Bag" and "I Got You (I Feel Good)."
As Brown began to lean more into pushing funk, other artists emerged from all over America. San Francisco native Sylvester Stewart formed Sly & The Family Stone in the late 1960s. Songs like "Dance to the Music," "Everyday People," and "Thank You (Falettinme Be Mice Elf Agin)" all became chart-topping hits that expanded the genre's reach. Offering messages of love, peace and understanding from all walks of life, Sly & The Family Stone was also one of the first mainstream bands to have an integrated line-up of musicians.
Turning into the 1970s, former doo-wop singer and Motown songwriter George Clinton became the face of funk as "Dr. Funkenstein." Creating two of what are considered the greatest funk bands of all time, Parliament and Funkadelic, Clinton earned over 40 R&B hits and three platinum albums throughout that decade alone with hits such as "Tear The Roof off The Sucker (Give Up The Funk)", "P.Funk (Wants to Get Funked Up)," "One Nation Under A Groove" and "(Not Just Knee Deep)."
Both bands pushed the boundaries of funk even farther through various influences of rock and psychedelic sounds with albums like Mothership Connection and One Nation Under A Groove.
The reliance on repetitive bass-lines in funk also gave way to celebrity bass-players like Larry Graham and Bootsy Collins, who became successful solo artists. Working with Brown and Clinton before releasing solo work, Collins found commercial success with tracks including "Bootzilla" and "I'd Rather Be With You."
Though funk's commercial success waned during the 1980s, artists including Prince, Rick James and the Red Hot Chili Peppers used funk as a foundation to experiment with other music genres. Parliament-Funkadelic so inspired the Purple One that he paid tribute to Clinton as he was inducted into the Rock and Roll Hall of Fame in 1997.
"The great George Clinton is the father of this funk mothership, the soulful supergroup that included legends like Bootsy Collins, Bernie Worrell, Eddie Hazel, and all the other brilliant musicians and singers that have signed on for duty," said Prince during his speech. "They built Parliament Funkadelic and changed the world. There was something futuristic about Parliament Funkadelic and that was only fitting since they played a huge role in creating the future of music."
Meanwhile, funk eventually became an essential part of sampling in early to Golden Age era Hip Hop through Grandmaster Flash and the Furious Five, Public Enemy, Dr. Dre and De La Soul. Today, artists including Donald Glover, Kendrick Lamar, Bruno Mars and Anderson .Paak, have all utilized funk elements in their music. Even modern electronic dance music owes credit to funk's integration of electronic instrumentation and grooves.