3 Things You'll Learn From Reading Michelle Obama's New Book 'The Light We Carry'
The former first lady talks about how her body has changed and how little info there is about menopause.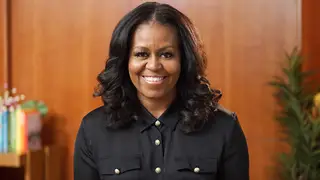 With a new book coming out and a new way of moving through her world, Michelle Obama gave an interview exclusive to PEOPLE in which she shared some personal information about aging.
At 58, Mrs. Obama shares her journey with menopause and how she struggled to find information about the changes she has experienced.  "The Light We Carry: Overcoming in Uncertain Times" is a candid and personal book from the former first lady.
Here are three highlights from Mrs. Obama's new book.
You're Not Alone In Living With Menopause
Even with her devotion to health and fitness, Mrs. Obama is still subject to the effects of time. She told PEOPLE that even though there is information readily available when it comes to finding out about what happens to women as they age, there's definitely room for improvement. "There is not a lot of conversation about menopause. I'm going through it, and I know all of my friends are going through it. And the information is sparse."
Be Mindful, Not Obsessive
The svelte and snatched beauty who gave women inspiration about how feminine and strong arms can look says time has made it so that even her scale shows some changes. She put it simply, "I never used to weigh myself. I'm not trying to stick to numbers, but when you're in menopause, you have this slow creep that you just don't realize. We're all in menopause with stretchy [waist] bands and our athleisure wear on, and you look up and you can't fit the outfits you had last year. I have to be more mindful, not obsessive, but more mindful."
Adapt To Your Changing Body
Although she was the brains and much of the muscle behind the "Let's Move!" campaign to help address the epidemic of childhood obesity, Mrs. Obama hasn't stopped exercising. She has just changed how she moves. "I find that I cannot push myself as hard as I used to. That doesn't work out for me. That when I tear a muscle or pull something and then I'm out. The recovery time is not the same."  Obama's routine is now focused on flexibility; she says less cardio, more stretching.
"The Light We Carry: Overcoming in Uncertain Times," hits shelves on Nov. 15, just in time for holiday gifting.