Michelle Obama Announces Tour Dates And Moderators For New Book 'The Light We Carry'
The forever first lady is slated to hit half a dozen cities.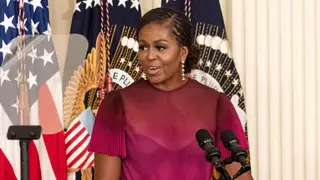 Michelle Obama is scheduled to head out on a six-city national tour to promote her forthcoming book, The Light We Carry: Overcoming in Uncertain Time
On Wednesday, Live Nation and the former first lady's publisher, Crown, announced that Mrs. Obama will touch down in half a dozen cities. Among those include Washington D.C. (which will take place on the book's release date of November 15), Philadelphia, Atlanta, Chicago, San Francisco and Los Angeles.
"I am so excited to share that I will be heading across the country soon to talk with you all about my new book," Obama, 58, said in a statement, according to The Hill. "This book means so much to me — it's a collection of perspectives and practices I've used to keep me afloat amid uncertainty. On this tour, I'll be sharing some personal stories and lessons that have helped me along my path, and I can't wait to tell you more."
Organizers of the tour said Obama wanted to make stops "accessible to as many people as possible."
Tuesday, November 15: Warner Theatre, Washington, D.C. (Ellen DeGeneres)
Wednesday, November 16: Warner Theatre, Washington, D.C. (Ellen DeGeneres)
Thursday, November 17: Warner Theatre, Washington, D.C. (Elizabeth Alexander)
Friday, November 18: The Met, Philadelphia, PA (Gayle King)
Saturday, November 19: The Met, Philadelphia, PA (Hoda Kotb)
Friday, December 2: Fox Theatre, Atlanta, GA (Tyler Perry)
Saturday, December 3: Fox Theatre, Atlanta, GA (Tyler Perry)
Monday, December 5: Chicago Theatre, Chicago, IL (David Letterman)
Tuesday, December 6: Chicago Theatre, Chicago, IL (Heather McGhee)
Friday, December 9: The Masonic, San Francisco, CA (Conan O'Brien)
Saturday, December 10: The Masonic, San Francisco, CA (Tracee Ellis Ross)
Sunday, December 11: The Masonic, San Francisco, CA (Michele Norris)
Tuesday, December 13: YouTube Theater, Los Angeles, CA (Oprah Winfrey)