Uganda's Ebola Outbreak Has Officially Come To An End
The spread of the deadly disease was the nation's worst outbreak in two decades.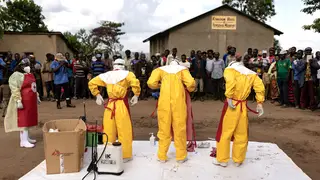 After years of threatening an entire nation's population, the latest Ebola outbreak has come to an end in Uganda.
According to The New York Times, on September 20, an Ebola outbreak was declared in Mubende, Uganda, eventually spreading to nine districts, including the country's capital, Kampala. The World Health Organization has reported 142 cases and 56 deaths, including seven healthcare workers, which is the worst outbreak of the deadly virus in 20 years. However, on November 30, the last confirmed patient was discharged from the hospital. After no new cases for 42 consecutive days, which is twice the incubation period of Ebola, the outbreak has officially ended.
Dr. Matshidiso Moeti, the W.H.O. regional director for Africa, said in a statement, "With no vaccines and therapeutics, this was one of the most challenging Ebola outbreaks in the past five years. Two months ago, it looked as if Ebola would cast a dark shadow over the country well into 2023 as the outbreak reached major cities such as Kampala and Jinja, but this win starts off the year on a note of great hope for Africa."

Ebola has taken hold in Uganda multiple times. The most deadly outbreak was in 2000 when it killed 224 people, according to WHO.

The disease found its way to the United States in 2014, when eleven people were treated for infection. A man who traveled from West Africa to Dallas, Thomas Duncan, was diagnosed with it and died. Two hospital workers who cared for him were also infected, but recovered, according to the Centers for Disease Control and Prevention.

PHOTOS: Ebola – What You Need to Know 
Ebola is a form of hemorrhagic fever, which can have a 90-percent fatality rate. It can take hold of its victims within days, causing severe fever, muscle pain, vomiting, and diarrhea. In several cases, it produces organ failure and unstoppable bleeding.
Many officials believe the disease is carried by animals hunted for meat, notably bats. The virus spreads among humans via bodily fluids, including sweat, meaning you can get sick from touching an infected person. There is no known cure for Ebola.
There are three different vaccines currently being trialed in Uganda.