Cardi B and Offset Share Sweet Anniversary Wishes
The duo have been giving #couplegoals all month.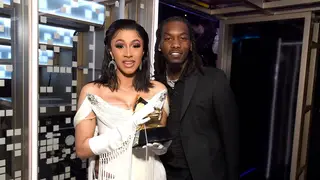 Love is in the air! Cardi B and Offset are celebrating their sixth wedding anniversary!
The couple shared messages of love on social media.
Cardi wrote a lengthy tribute to her husband, saying, "Thank you sooo much baby. Thank you for the flowers, the empowerment, the protection and for being a great father to our children… I love so many things about you.I love the fact that I'm with a grown ass man that's going to provide , protect and help both of us GROW and can handle my mouth ,my attitude,my confidence my weakness and all this ASS!!"
She added, "MY FAVORITE FAVORITE FAVORITE thing about you is that you study me and always pay attention to what I'm into From my favorite colors, my favorite brands to MY FAVORITE foods… I love that you into details like me because it's always the lil things that make me smile or even drive me off the wall. Happy anniversary to US."
The caption was a video of a half dozen extraordinary pink bouquets--with even more floral centerpieces.
Offset reposted the same video, but added a sweet caption, writing, "Happy anniversary my beautiful Gorgeous Pretty Wife. Since I met you I grown to become a better man no matter what you have my back and I can trust you with my life blessed to have a loyal strong woman on my side…you blessed me with beautiful kids you are my safe place in this crazy world. you believe in me more than I do sometimes… I couldn't imagine a life without you….. we gone continue life together I LOVE YOU."
The couple famously went on their first date in 2016 at the Super Bowl, where the Falcons lost to the Patriots. They were married in the fall of 2017. They have two children together: daughter Kulture Kiari, 5, and son Wave Set, 2. Offset is also a father to sons Jordan, 13, Kody, 8, and daughter Kalea Marie, 8, from previous relationships.
In an interview on SiriusXM's The Morning MashUp, Cardi talked about her marriage to the former Migos star, saying, "We're very different from each other. Yin and yang for real," she added. "But one thing that we like both love, we both love family. We are each other's support system. I know that he backs me up a hundred percent and I back him up a hundred percent."
"Like, we do be needing that fire. I mean, we're two different people, like we're very, very like different from each other, but I think that's what make us, work."