Cardi B Responds To Joe Budden's 'Bongos' Comments
The New Jersey rapper-turned podcaster said, "I hate the song."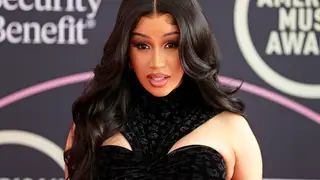 Cardi B is clapping back at Joe Budden, who had harsh words for her new single "Bongos" with Megan Thee Stallion.
During a new episode of his podcast, the New Jersey rapper-turned-pod host claimed that the song sounded like "two women that can't make a song," adding that the record was "contrived" and saying it was a haphazard "science project" cooked up by "AI."
"I hate the song," Budden said. "The hook ain't hooking. It's not better than any of the songs like it. 'WAP,' 'Up,' it's not better than any Cardi B feature."
In her response, Cardi said that Joe's critique of her and Megan's single was uncalled for and personal.
"I just feel like he has an issue with me," Cardi said via Instagram live on Wednesday (September 13). "And it was beyond the critique of 'Bongos' – it's just you inviting b*****s who said the rudest, nastiest s**t … when Mal and Rory say f**k s**t about you, you get so defensive and you want to clear it up.
"You came at Taxstone because Taxstone said something about you," she added. "You expect people to understand you and you expect people to take your side."
Joe has since responded to Cardi's retort: "Don't play with me like that because y'all know I f**k with Cardi," he said. "But I stand on what I said about the song. And I said it pretty respectfully. I ain't here to shatter nobody's dreams. For me, it's if I didn't hear nothing from none of y'all the nine million times I bigged you up, I definitely don't want to hear from you the one time I didn't."