DHS Funding Chaos Highlights Republican Discord
The Homeland Security Department is in danger of shutting down.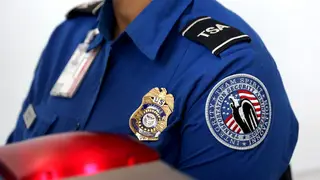 With just hours to go to prevent a Department of Homeland Security shutdown, House Republican leaders tried and failed to pass a three-week funding bill. The measure fell short by a vote of 203 to 224. Conservative and tea party lawmakers want a bill that would address President Obama's immigration policies, while Democrats are holding out for a clean bill that would fund the agency through the end of the fiscal year.

Just after 10 p.m., the House passed by a vote of 357 to 60 a measure to fund the agency for seven days that the president signed just before midnight.

Earlier in the day, House Democratic leaders lobbied their members to vote against the three-week bill. But Rep. David Scott (D-Georgia) defied his party to support the Republican bill because he represents a large constituency of TSA workers. He cast his vote for them, not the GOP, he said.

As Scott sat reading in front of the fireplace in the House Speaker's lobby, several Democrats, including Minority Leader Nancy Pelosi, tried to get him to change his yea to nay.
"Come on, David, take one for the team," Pelosi said, but the Georgia lawmaker stood his ground.
Florida Rep. Corrine Brown was the harshest on Scott, spending several minutes chastising and warning him in a voice loud enough to cause onlookers to whisper, that he was "making a big mistake." But as other members continued to approach him, including Congressional Black Caucus Chairman G.K. Butterfield, fellow Georgia Rep. John Lewis and Missouri Rep. Emanual Cleaver, Scott continued to calmly explain his position and refused to budge.
"I represent more TSA agents than anybody," he said. "I represent the world's busiest airport. I represent the counties where they live. When I walk through that airport, [the TSAs say], 'Congressman, you're looking out for us.' I tell them I'm going to do everything I can to keep their check coming."
The failed vote was an embarrassing blow to House Speaker John Boehner, who'd hoped that Democrats would help push the measure through. The White House also had indicated that the president would sign the three-week bill. Instead, Democratic leaders forced Republicans to pass it on their own -- or go down trying.
"Speaker Boehner has tried – and failed at – every possible face-saving option. The speaker must allow us to vote on a clean, full-year bill to fund DHS tonight," said Mississippi Rep. Bennie Thompson, the ranking Democrat on the Homeland Security Committee, in a statement. "We're down to the wire but there is still time and the votes are there.  If the department is forced to shut down, the blame will fall squarely on the speaker."
Pelosi urged her members to support the one-week reprieve, suggesting that she'd struck a deal with Boehner for a bill that would fully fund the agency and would not be tied to the president's immigration policies. But in appearances on the Sunday talk shows, Republican leaders said there is no such deal.
"There is no such deal. There is no such bill," said Majority Whip Steve Scalise, who won his leadership position in part because of his ability to corral the party's far-right wing on tough issues like this, but failed miserably on Friday to whip the number needed for the three-week bill.

GOP leaders also blamed the funding impasse on "differences of opinion" in their caucus, the president and Senate Democrats. House Majority Leader Kevin McCarthy even suggested that the Senate should change its rules to pass a bill with immigration amendments even though Senate Majority Leader Mitch McConnell is already working on legislation without them.

"What we saw from Speaker Boehner, Majority Leader McCarthy and Majority Whip Scalise -- the Three Musketeers of ineptitude -- is Republicans can't govern, have no plan to move our country forward and help create jobs, and are more concerned about their political future than the American people," said Matt Thornton, communications director for the Democratic Congressional Campaign Committee.

BET Politics - Your source for the latest news, photos and videos illuminating key issues and personalities in African-American political life, plus commentary from some of our liveliest voices. Click here to subscribe to our newsletter.

(Photo: John Moore/Getty Images)