Mo'Nique Threatens To Expose Hollywood Heavyweight Will Packer For Trying To 'Intimidate, Bully and Ruin' Her Career
She allegedly has all the receipts.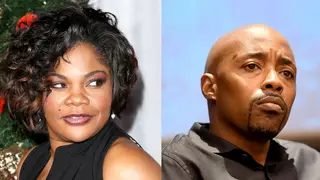 Mo'Nique has set her sights on her next target, and she's taken to Instagram, her platform of choice as of late, threatening to expose him of allegedly ruining her career.
In an Instagram video post, the Blackbird actress explained to her followers that she has "receipts" to prove that producer Will Packer, whom she worked with on Almost Christmas, was trying to "ruin her character."
Her comments come on the heels of reporter Jawn Murray taking to the internet where he shared a video claiming the Oscar winner had burned all her bridges in Hollywood. He proceeded to read an email from Packer that credited Mo'Nique's husband/manager, Sidney Hicks, as the source of all of her problems.
Mo'Nique posted the below response to Murray's claims.
"There's a reporter named Jawn Murray who read an email that he received from a producer named William Packer that he sent to my husband, Sidney, who is also my manager," she said. "However, what they did not do is send the rest of the emails. So, we want to post the thread of the emails so you get a chance to see the behind the scenes of how a producer tried to intimidate, bully and ruin someone's character."
In the extremely lengthy chain of emails that Murray read, Packer implied that Hicks was being unreasonable in his representation of Mo'Nique and even went on to accuse him of attempting to "swindle" more money out of the studio while filming the movie.
Read the emails, in full, above.