T.I. Is Offering A Monetary Reward To Anyone Willing To Donate A Kidney To Scarface
Yesterday, the Houston legend issued a call for volunteers.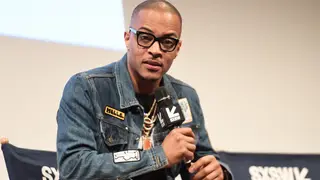 (Update: 10/09/20): As fans continue to send their prayers and well wishes to Scarface amid his latest health issue, T.I. has stepped up to help out. 
Yesterday, Scarface revealed that he was in need of a kidney donor after battling COVID-19 earlier this year. Soon after, T.I. threw his full support behind Scarface and spread the word to his followers. The Grand Hustle chief shared a screenshot of Scarface's plea for a volunteer in an Instagram post wherein he extended an offer of a monetary reward for anyone able to help with a kidney donation.

"Love & Prayers To Da Homie @brothermob," he wrote. He added, "We got a bag for a volunteer...who B+?" The Grammy-winning rapper stressed that he's only considering those who are serious about donating a kidney. He then instructed people to directly message him on the social platform verifying their blood type.

After narrowly surviving his frightening bout with COVID-19, Scarface is facing another health battle as the rapper has revealed he is now in need of a kidney donor.
The Geto Boys' rapper made a post on Twitter on Wednesday (Oct. 7) asking for a volunteer.

 "I need a kidney y'all," he announced, "any volunteers? B+ blood type."

In late March, Scarface shared with fellow Geto Boys Willie D he had contracted COVID-19 shortly after the coronavirus pandemic began earlier that month. The Houston legend opened up about the toll the virus had taken on his health. His condition got so bad at one point that he had to be placed on dialysis after suffering kidney failure. 

"This whole three weeks has been an ordeal. It's the craziest I've ever seen in my life. I've been to the point where I felt I was gonna die," Scar said at the time.

Sadly, the 49-year-old disclosed to FOX 26 Houston a few months later that his kidneys never fully recovered after his initial diagnosis.

"COVID attacked my lungs first, and then it attacked my kidneys and knocked them out.  I got full lung recovery, but my kidneys never came back," he said. "I'm still a little weak. I don't have a lot of strength in my legs yet. I still haven't got full taste back and sense of smell yet. But I am glad to be alive."

"This my new lifeline," the Houston-bred rapper said, pointing to his dialysis port. "I gotta change my entire diet. I gotta do dialysis four times a week, three hours a day. That's taking all of my blood out, cleaning it, and putting it back in my body. Before the COVID, I never had kidney problems before."