Tracy Anderson's Ex-Husband And Former NBA Star Eric Anderson Dies At Age 48
The former Knicks star suffered a cardiac-related complication.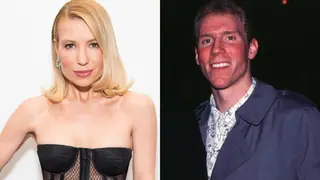 Eric Anderson, the former New York Knicks' player and ex-husband to celebrity trainer Tracy Anderson, has died in Indiana from natural causes after suffering from pneumonia.
According to Hamilton County Coroner John Chalfin, the former Indiana University basketball star experienced "cardiac-related" complications, reported the Indianapolis Star.
Chalfin said a final report on the 48-year-old's official cause of death should be issued within 7 to 10 days.
Anderson, who stood tall at 6-foot-9, is presumed to have been in good health before battling pneumonia. In severe cases, pneumonia can cause heart failure, according to the Mayo Clinic.
Just last month, Diddy's ex, Kim Porter, was pronounced dead following a tough bout of pneumonia. While Porter's official cause of death remains unknown, it was reported she suffered cardiac arrest after suffering pneumonia.
In the case of Eric Anderson, Carmel police officers received a call from his sister on Sunday to conduct a welfare check.
"His sister hadn't heard from him in a couple days, which she thought was odd because he was fighting some type of illness," Carmel Lt. Joe Bickel told the Star.
When officers visited Anderson's apartment, they found the Hoosiers legend dead.
A rep for Tracy Anderson told Page Six, "We are deeply saddened by the sudden loss of Eric Anderson."
"Eric was a true friend to Tracy, a loving and incredibly dedicated father to their son Sam, and always willing to lend a helping hand to many of us at Tracy Anderson throughout the years."
"Our hearts are grieving with Tracy and her family during this difficult time," the statement concluded.