Interview: 'On The Come Up' Cast and Creators Talk About The Hip-Hop Coming of Age Drama
The movie, based on the book by award-winning author Angie Thomas, also serves as Sanaa Lathan's directorial debut.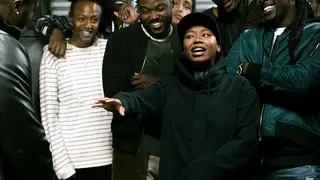 Award-winning author Angie Thomas has always had a way with words. Thomas made her debut as an author with 2017's The Hate U Give, which was then released as a movie in 2018. However, years prior to her life as an author, she pursued a career as a rapper. Eventually, Thomas shifted away from rapping, but her passion for hip-hop lives on and became the inspiration for her second novel, On the Come Up. On The Come Up, which has also been turned into a film that's in theaters, and begins streaming on Paramount + on September 23, centers around 16-year-old Bri aka Lil Law (Jamila Gray), who is a talented aspiring rapper with dreams of becoming the greatest of all time. She also sees rapping as a way to provide a better life for herself. Along for the ride with Bri is her mother Jay (Sanaa Lathan), a former addict who struggles to stay sober, her gangsta aunt who protects her at all costs, and loyal friends who want to see her win.
On The Come Up marks Lathan's directorial debut and Rapsody was also on board to help bring Lil Law and the lyrical vision from the book to screen. The film itself was a unique coming-of-age story that was fun, edgy, and long overdue. Here, we chat with Sanaa, Lathan, Angie Thomas, Jamila Gray, and more about what makes On The Come Up one for the books.
BET.com: Tell me about your passion for hip-hop and how your former life as a teen rapper inspired On the Come Up. Was it semi-autobiographical?
Angie Thomas: It was definitely semi-auto-biographical. Hip-hop was there for me when it felt like the rest of the world wasn't. I tell people all the time, as a teenager I hated reading because I couldn't see myself in a lot of books but hip-hop filled that void for me. Rappers told the stories I saw in myself. Rappers helped me find my voice and to pay homage to that culture so that platform was a blessing to be able to do with this book. And now this movie, Lil Law and I were similar in the sense that I wanted to be a rapper when I was 16 because I thought it was also a way of not just making myself heard, but getting my family out of poverty. And I wanted to show what it's like for a young person who's going through that who feels helpless, but you have this one thing that you feel as if this is something that you can use to change everything, and how hard you want to get it, and how hard you want to go for it. So I understood that 1000% and that's Bri's story.
BET.com: There is definitely something to be said that we've only begun to see more Black characters in YA books and we haven't really seen many Black female leads in coming-of-age stories. But some of the women characters in On The Come Up were complex and multi-layered so talk about the importance of seeing multifaceted Black women characters in storytelling.
AT: It's so important, and I will never sit here and say that I represent all Black women in everything that I do because we have so many different lives, so many different stories, so many different experiences. I just wanted to reflect a few in what I write. And with the character Bri specifically, I wanted to show this young Black girl who's often told by the world that she's too much or not enough. And I wanted to find her power and, to find her place and to own up to, and for her to find her courage to say, "You know what, I'm enough period," and I wanted to show that. But then I also wanted to show the strong women who surround her and pour into her, because for so many of us that's our lifeline. We have our mothers, we have our aunts, we have our grandmothers who pour into us and help us become the women that we are, and I wanted to respect that, but I also wanted to show that these women who pour into us have their struggles sometimes too. They have their hardships too. They're still growing and learning and making mistakes, and it's a beautiful thing because it helps us become who we are. And through Bri's mom and her aunt, we see how she becomes the person that we get a glimpse of at the very end. So it's beautiful for me to show those roots.
BET.com: There were some MF Doom references in the movie and of course, Tupac because he is one of your influencers so, who's your top five, dead or alive?
AT: That is so hard but my top five are unconventional. I don't usually just base it on lyrics. I base it on my personal experiences. So my top two could be interchanged but number one is going to be Tupac and then Left Eye from TLC. I have a personal story about Left Eye. She spoke to me when I was 14 years old and said things to me that changed my life. And so I will forever be grateful for her. So those are my top two. I think everybody knows I love Pac. Pac was my poet. Pac was my storyteller. From there, I got to go with André 3000 because I'm southern. Andre doesn't get enough props. I love Biggie and I'm gonna say Method Man and Rapsody because they're in my movie.
BET.com: You grew up in NYC and have talked about how you met kids from different backgrounds while in high school, so you likely met some Lil Laws. Plus, you were in Love & Basketball so you know what it's like to be in a coming-of-age story so talk about how the elements from your real life made you perfect for this to be your directorial debut.
Sanaa Lathan: It's interesting the way that I even got pitched this. My agent really did his homework and he really pitched my background, which was around music and art, and dance. And I kind of grew up around New York City around the time during the birth of hip-hop. And so that got me in the door and as an artist, you're always drawing on your own experiences. The character that I play, Jay, I have many of those women in my family or grew up with women like that, so I identified with many of the elements in the movie just from my own life.
BET.com: And what role did Rapsody bring to the film that was very necessary?
SL: I knew we had we already had rhymes that Angie had written in the book, which were great but the book came out several years ago and I wanted to bring it up to date and I knew I wanted a great emcee who also wrote, and so I interviewed a couple of women who were in the industry and Rapsody was one of them. I gave her an assignment. I said, "Take this battle and do one side of it, and then come back to me." Not only did she take that battle, she did like two other battles. She did both sides. She came back with three different options and she came back like the next day and I couldn't even find the other candidates. So I was just so blessed with her. She wrote all the battles in the movie and then when we were in the editing process, I decided that it would be great if Bri's voiceovers were in rhyme. So then Rapsody went on to rewrite all of the voiceovers, which I thought was fantastic. So it took a village.
BET.com: Top five dead or alive.
SL: Nas, Jay-Z, Kendrick, I love Nikki, Rapsody, and Tierra Whack.
BET.com: We rarely see coming-of-age stories like this where the protagonist is a Black girl and there was also the underlying LGBTQ storyline, So talk about the elements of this film that made it fun and unique and what got you on board.
Miles Gutierrez-Riley: The story is incredible. The book is amazing, and Angie Thomas obviously already carries such a tremendous legacy with her. What attracted me to Sonny in particular, is that as you said, there's nothing that is overbearing about the way that his truth is presented. He is gay. He's queer. He's proud of it. And at the same time, what we're really focused on is his positivity toward his friend, his loyalty, and how annoying and over-the-top you can be as a young teen. To me, he just felt like a real and honest person, a real full-bodied dynamic character. He was a real joy to play.
Michael Cooper Jr: I think the story in total, like, that's what I gravitated towards. Just being an African-American, especially in our community, we are faced with a lot of traumatic events already. So Angie Thomas' novel is beautiful. If you haven't read it, please read it. The Hate U Give was great and so just knowing her work, I was instantly drawn to On The Come Up and my character, Malik. I mean Malik is just grounded and he's charming and he's genuine. I think we all need a friend in our life that grounds us.
BET.com: Finally, who's your top five, dead or alive?
MGR: It changes as I get older but I would say Nas, Flo, Milli, Nicki Minaj, Baby Keem, and I have a pretty crazy answer but recently, I rediscovered "Picasso Baby" by Jay-Z. That's a crazy song. I don't know if Jay-Z is one of my top of all time but that song is on repeat right now.
MCJ: I would say nice to Tupac, Lauryn Hill, I love her, Nicki Minaj and then I've been listening to a lot of Rapsody lately.
BET.com: Did you grow up listening to hip-hop, and what was it like working so closely with some of the women attached to this project?
Jamila Gray: Yes, I did grow up listening to hip-hop. I actually DJ on the weekends. I play a lot of hip-hop. I have a heavy hip-hop music background, I love hip-hop. It's my entire upbringing. Working with Sanaa is just so amazing because she's so patient. Working with Sanaa and Rapsody as well, because Rapsody played a huge part in me developing the character Bri. She created a whole playlist for me to listen to with different artists like Mobb, Deep, Big Pun,  Biggie, and just a lot of classic hip-hop, and Sanaa also sent me a lot of inspiration. She sent me this series on YouTube called Queen of the Ring where it was battle rap. And that is a completely different art. As a director, she's just so patient and it was amazing to see her transform and pause and switch into an actress in the middle of that. It was crazy.
BET.com: And who is your top five, dead or alive?
Marvin Gaye, Erykah Badu. Michael Jackson, Tupac, and Drake.
BET.com: Finally, we don't often see coming-of-age stories led by Black women and girls and the women in Bri's life were so different and dynamic so talk about the importance of multifaceted Black women characters.
JG: I think representation is just so important, and I know growing up, the people that I looked up to were Sanaa. Love and  Basketball was one of the first times I had seen people that look like me on the screen telling a love story, so this just makes me feel so good that little girls that look like me are going to be proud and see themselves on screen. I'm just, I'm so happy to be a part of history.