You Won't Believe Why the Broadway Hit Hamilton Is Being Accused of Racism
An attorney is all over the show.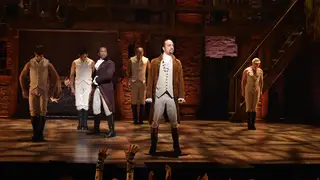 Hamilton is a Broadway blockbuster which has been heaped with accolades and awards over the past year, but now the hit show is getting some unwanted attention from an attorney over a casting notice deemed to be racist.
The show, celebrated for it's diverse cast of mostly Black and Latino actors, posted a notice for an open call for "non-white" performers on its website and on Backstage.com. The Twitterverse quickly began circulating the controversial ad, debating whether or not its discriminatory. A human rights lawyer in New York named Randolph McLaughlin seems to think it's not okay, and is putting the show on blast.
"I don't know how a producer in the 21st century can think this is OK," he said. "Even when the intention is obviously good, you can't express racial preference. This is an issue we have been fighting for decades and it started for black people. Imagine if the casting call was for WHITES ONLY. Al Sharpton would have a picket line. Listen, Idris Alba might not be the best person to play James Bond, but he should certainly be allowed to audition for the role if he wants to."
While McLaughlin hasn't initiated any litigation, as far as we know, his message was recieved loud and clear. Actor's Equity, the organization that oversees these kinds of things on Broadway, says it asked Hamilton producers to amend the notice. The producers complied and issued a statement of their own:
"It is essential to the storytelling of Hamilton that the principal roles — which were written for non-white characters (excepting King George) — be performed by non-white actors," the producers said in a statement. "This adheres to the accepted practice that certain characteristics in certain roles constitute a 'bona fide occupational qualification' that is legal. This also follows in the tradition of many shows that call for race, ethnicity or age specific casting, whether it's The Color Purple or Porgy & Bess or Matilda. The casting will be amended to also include language we neglected to add, that is, we welcome people of all ethnicities to audition for Hamilton."
What do you think, racist or nah?
Meanwhile, see the talented cast of Hamilton perform a cypher at the BET Hip Hop Awards last year:
BET.com is your No. 1 source for Black celebrity news, photos, exclusive videos and all the latest in the world of hip hop and R&B music. 
(Photo: Theo Wargo/Getty Images)