Philadelphia Teen Goes Viral After Reacting To Being Accepted To Morehouse
The HBCU was one of Amir Staten's top choices.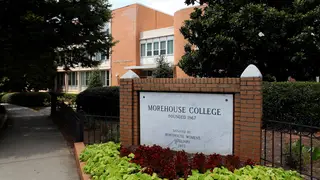 Amir Staten is about to become a Morehouse Man.
The 17-year-old senior at Germantown Friends School found out he was accepted to the prestigious HBCU and his reaction has taken over social media. He is seen running up a block in Philadelphia, clapping and jumping. His mother, Karlynne Staten, can be heard saying, "Congratulations, baby." Morehouse posted the video on their Instagram page, see below:
Amir, who is the captain of his high school basketball team, told CBS Philadelphia, "It's OK to go to college. It's cool to go to college. It's cool to pick up a book, it's cool to get a degree. You don't have to be involved in the streets."
According to his mother, in 2021, Amir's 18-year-old godbrother was fatally shot in Philadelphia, which made her terrified when he leaves the house. His mother explained, "I had a couple of mixed emotions because you know he's going to get out. He is going to get out of Philly. I love Philly to death, but it is not safe for him."
Morehouse College was one of Amir's top choices. He plans to study sociology.