New Video Surfaces Of Canadian Prime Minister Justin Trudeau In Blackface
A photo of Trudeau in brownface at a 2001 "Arabian Nights" party while he taught at a private school sparked the racist dark makeup scandal.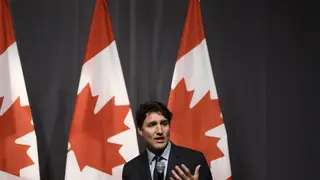 Canada's Prime Minister Justin Trudeau explained he's "always been more enthusiastic about costumes than sometimes is appropriate," Newsweek reports. 
The explanation came after a photo of him wearing brownface at an Arabian Nights-themed costume party, just 14 years before he took office, was released to the public, the New York Times reports.
Trudeau, who is currently running for re-election, was 29 years old in the controversial photograph, which was taken at West Point Grey Academy in Vancouver and appeared in the school's yearbook, according to Time magazine. 
"This is something I shouldn't have done many years ago," Trudeau, who was dressed as Aladdin at the party, told reporters, according to the New York Times. "It was something that I didn't think was racist at the time, but now I recognize it was something racist to do, and I am deeply sorry." 
The party photo was taken in 2001. But it's not the only time he's adorned brown or blackface. 
Trudeau admitted he wore blackface in high school in the late '90s while performing "Banana Boat Song (Day-O)," a traditional Jamaican song, which Harry Belafonte recorded and released in 1956.
The Canadian Broadcasting Corp published a photo from that performance that a spokeswoman confirmed as authentic, Reuters reports. 
Yet, still, there was more. 
Another video surfaced showing Trudeau in dark makeup making faces and sticking his tongue out. It's unclear where the video Global News released originally came from, Reuters reports. 
"We can confirm that it is him and it's from the early 1990s," a Liberal official said of the video without clarifying the circumstances around it, Reuters reports. 
"I'm going to be asking Canadians to forgive me," Trudeau said Wednesday, reports the New York Times.
According to the 2016 census, nearly two million Canadians have South Asian geographical origins, which makes them the largest visible minority group in Canada. 
Diversity and racial equality have been issues at the forefront of Trudeau's work since taking office four years ago. His cabinet currently includes four Sikhs.
The leader of the New Democratic Party, Jagmeet Singh, who is also Sikh, called Trudeau's actions "insulting."
"Who is the real Mr. Trudeau?" Singh said to reporters, the New York Times reports. "Is it the one behind closed doors, the one when the cameras are turned off that no one sees? Is that the real Mr. Trudeau? Because more and more, it seems like it is."  
Trudeau added to reporters Wednesday, "It was a dumb thing to do."