Watch: Steph Curry and Justin Timberlake Doing the 'Carlton Dance' Is Everything
Alfonso Ribeiro took the lead.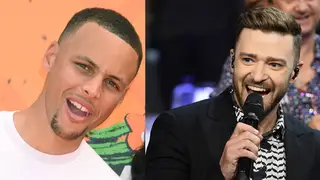 Justin Timberlake and Alfonso Ribeiro graced us once again with their dancing skills when the two paired up during a celebrity golf tournament to do the classic 'Carlton' dance and this time with a special guest.
NBA MVP Steph Curry joined in to make it a dance trio of epic proportions. 
The three men look very much in their comfort zone doing the famous dance, but of course Ribeiro's technique is the most crisp.
This seems to be a quickly growing tradition between Timberlake and Ribeiro, we will have to wait and see who they add next to their growing 'Carlton' posse.