Tiffany Haddish Responds To Accusations She Lied About Ex-Husband's Abuse By Pulling Out Receipts
She came ready.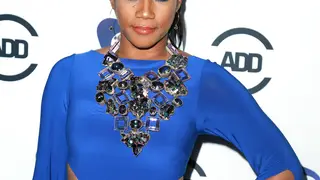 Tiffany Haddish's past life struggles have made her a popular hot topic for the past few weeks after she made claims in her memoir, The Last Black Unicorn, that her ex-husband, William Stewart, was physically abusive to her throughout their marriage.
Since the comedian's claims went viral, Stewart went on record to attempt to clear his name, firmly denying the allegations. However, the Girls Trip star has shown receipts to prove that she has no reason to lie.

Get more Tiffany Haddish news with BET Breaks, above.

In a V-103 interview, Williams denied his ex-wife's claims of abuse, saying he "married Tiffany, her issues and not the Hollywood lifestyle."
"I have never beat or hit or called a woman a 'MF' or 'B' while having a disagreement ever in my life," he continued. "I never caused a miscarriage, I have documents to prove this. Tiffany advised me about a month ago about the book and she told me that I would be furious."
According to theJasmineBRAND.com, however, Haddish did file documents against Stewart back in July 2011. The documents state that she filed a restraining order against him at the time and also claimed he attacked her in July 2010 in Montreal while she was performing with other comics.
"We were in Montreal, Canada, when he choked me in the stairway of the hotel," she said. "I ran away from him. I ran because he was trying to make me stay in the room. But I wanted to stay in the lobby and talk to my fellow comedians."
She recalled that, on a separate occasion, she suffered a "black eye, bruised neck, elbow and back."
The actress also spoke on several other physically abusive episodes the former couple had where he hurt her throughout their relationship. They divorced two years after she dropped the temporary restraining order that she was granted.