Former Inmate Becomes CEO Of App That Sends Postcards To Prisoners
Marcus Bullock got a second chance at life and success.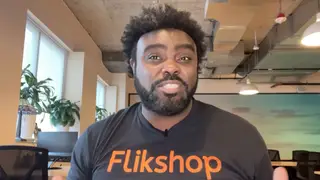 A Washington D.C.-area man is turning his life around and using his trials and tribulations as inspiration to create something that could be a big help to others.
Marcus Bullock is on a mission to keep prisoners connected to their loved ones and to educate former convicts on the ways in which they can make a positive difference in their community. He would know, he's been incarcerated himself.
At 15 years old, Bullock was arrested for carjacking. It's something that he says changed his life. Speaking with WJLA, he says he didn't understand the ramifications of his actions at the time.
"It wasn't until two years into me not only getting arrested, and then getting an eight [that is] sentenced to eight years in adult maximum-security prisons as a 15-year-old kid when things started to shift for me," Bullock said to the news station.
Starting to lose hope, Bullock said his mother did something that turned it all around. "She made a commitment to me in a prison visitor room to be able to overcome and see there was still hope for my life after prison," he said.
His mom then promised she'd write him a letter or send a picture every day for the remainder of his prison sentence, so he could feel love and that there was someone who believed his life was worth it.
"My name started getting called for mail and in prison, people don't get mail every day," Bullock said. "My mom wrote me letters and people started living vicariously through my letters and pictures."
Today, Bullock is the founder and CEO of Flikshop, an application that allows users to send a personalized postcard photo or message to anyone incarcerated in the U.S. Though the goal is to reach inmates, anyone can use the app to send a postcard to anyone.
"It allows for us to be able to connect over 170,000 families, shipped over 700,000 postcards to prisons across the country," he said.
Each postcard costs 99 cents, however people can donate to the Flikshop Angels program so families who cannot afford a postcard can send them for free.
"We know that there are over 2.3 million people who are incarcerated around the country and data says that 76 percent are going to return to prison after three years," Bullock told WJLA. "If we want to lower that rate of recidivism then we have to be thoughtful of how we introduce family connections and opportunities, get social capital resources back to these people well before they come home. That's the target audience because we know we can reduce recidivism with tech and data,"
Additionally, Bullock started the Flikshop School of Business, which targets former inmates and people living in underrepresented communities across the D.C. area. Its entrepreneurship program introduces people to tech and business building. Bullock says 161 people have already graduated from the program.
"If we give access and opportunity to people that are often boxed out of opportunities, then that will create lots of success," he said. "There are tons of folks who not only have felony convictions that need access, but I'm also very thoughtful about the people who are still climbing the gate. They are right at the tip and they don't have any felony convictions, they're not getting in trouble, but if someone doesn't help push them over the fence they will probably fall."