People Called Out For Blaming R. Kelly's Alleged Underage Victims
Author Marc Lamont Hill wants everyone to focus on the abuser.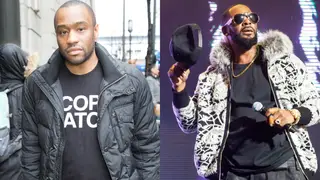 Since the Lifetime docu-series Surviving R. Kelly aired, social media debates surrounding the troubling allegations have been at an all-time high. While some people, such as Master P, have blamed the parents of the alleged victims, others have gone as far as to blame the victims.  
After the docu-series aired, it didn't take long for some people on Twitter to call several of the women who took part in the series "fast." We all understand the term "fast" to mean that a young girl is dressing or acting too mature beyond her years. 
Some have implied that these girls, who were minors, knew what they were doing when they became involved with R. Kelly.
"Y'all still talkin about R Kelly

in my opinion the little girls was wrong too they fast a** had no business around no grown a** man and they parents dead a** wrong too my momma didn't play that s**t I couldn't even wear shorts around men fr!" tweeted one person.
After enough people seemingly blamed the victims, former CNN commentator and author Marc Lamont Hill took to Instagram to drag everyone for calling the teenage girls "fast."
Hill posted a screenshot of Facebook status that read, "Ain't no teenage girl 'fast' enough to catch a grown man who ain't attracted to children." The message is arguing that it doesn't matter how mature a child acts, no sane person would be attracted to them if they weren't a pedophile.
When someone tried to argue that no one is blaming the victims, Hill responded, "numerous folks have said 'those girls knew what they were doing' or 'they looked fast.' Just search social media."
Other people on Twitter have also slammed people for using the word "fast" to shame the victims.