Black Florida Mom Pleads Guilty To Killing Her 5-Year-Old Daughter
Prosecutors said the former Naval officer "tortured" her child.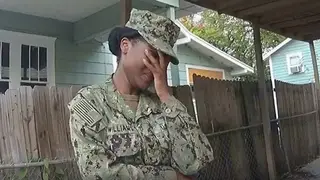 A Florida mother has pleaded guilty to killing her 5-year-old daughter, who she falsely reported as missing to the police on Nov. 6, 2019.
Former Naval Petty Officer 1st Class Brianna Williams broke down in tears as she entered a guilty plea to the second-degree murder of Taylor Rose Williams in a Jacksonville courtroom on Thursday, PEOPLE reports.
Footage obtained by AL.com shows the mother shaking and crying on a police body cam, but Williams had lied to law enforcement, claiming she woke up to find their home's back door opened and her daughter missing.
"As our community has shown over the past few days, there's a lot of love for Taylor here. Even those who have never even met her — and we want you to know that we will do anything we can to bring her home," Rachel Rojas, then-FBI Jacksonville assistant director, told New4Jax at the time.
At first, Williams was charged with aggravated child abuse, two counts of child neglect, lying to police, and tampering with evidence. Murder charges were later added.
The child's remains were found near Williams' hometown in Alabama on November 12, 2019, CBS North Alabama reported.
"The apartment of Brianna Williams was thoroughly searched, photographed and evidence was collected," District Attorney Lauren Anderson said in court Thursday. "Obvious signs of neglect and abuse were observed including soiled children's clothing, soiled carpeting, blood and along with partially empty soup and fruit cans that had a tiny hole cut in them."
Court records also state that "[Taylor was] tortured, maliciously punished or caged."
In addition to the torturing of her daughter, prosecutors said that Williams researched information online regarding starvation and malnourishment.