Did Mariah's Relationship With Her Boy Toy End Because of This 'Disrespectful' Photo?
Bryan Tanaka reportedly had a lot of issues with it.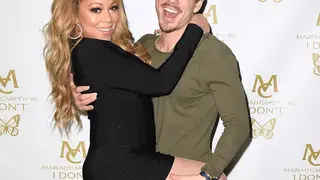 According to TMZ, backup dancer Bryan Tanaka felt disrespected by Mariah's relationship with her ex, Nick Cannon.

The site reports that Bryan wasn't comfortable with Mariah's close relationship with her ex-husband Nick Cannon, whom she's continued to establish a close bond with for the sake of their twins. Apparently, Bryan wasn't here for Mimi and Nick Cannon's family dinners and parties, as reports say it "drove him insane."
He would reportedly lash out by flirting with other women in Mariah's presence.
The last straw for Bryan reportedly came when Mariah and Nick took their twins to the Kids' Choice Awards together, last month, in coordinating outfits. TMZ reports that Bryan felt the family outing "disrespected" him and he even reportedly went as far as demanding she come home while at the event. See the photo below.

Mariah wasn't only sick of Bryan's allegedly insecure ways. She also grew weary of his expensive taste and constantly having to foot the bills when they shopped or went out. The dancer reportedly had a thing for expensive jewelry, which would always be paid for by the music icon.
She also reportedly felt like the dancer slid in at an opportune time when she had broken off her engagement with James Packer.
According to reports, the former couple, who had been dating for about five months, hasn't spoken since they got back from their Cabo trip in March.
Get the latest on Mariah in the BET Breaks video, above.