HBCUs Prepare For Increased Enrollment After Supreme Court Strikes Down Affirmative Action In College Admissions
Will the high court's decision mark a revival at the nation's Black colleges and universities?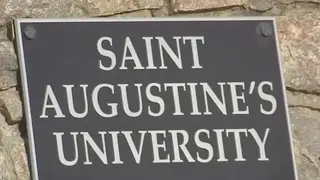 Historically Black Colleges and Universities (HBCUs) anticipate an influx of Black students in the aftermath of the U.S. Supreme Court's June 29 ruling that struck down affirmative action in college admissions.
The high court's conservative majority declared that race cannot be a factor in admission choices, compelling schools to find other ways to achieve diverse student bodies.
Leslie Rodriguez-McClellon, senior vice president for student experience at Saint Augustine's University in Raleigh, N.C., told local station WTVD that the liberal arts university is preparing for an enrollment increase.
"We are looking at increasing and updating our HVAC on campus. We're investigating building more housing on campus and we're increasing the capacity. Our information technology infrastructure is being improved on the campus. So we'll be ready," Rodriquez-McClellon said.
"Our education is quality," she added. "At least 50 percent of Black teachers in this country are educated at HBCUs. We still educate engineers and attorneys."
HBCUs were established in the early 19th century to provide higher education to Black Americans at a time when they were either unwelcome or banned from attending predominantly white institutions. Cheyney University of Pennsylvania in 1837 became the nation's first HBCU, established through a bequeathed $10,000 by Quaker philanthropist Richard Humphreys to train people of African descent for teaching careers.
With the end of government-sanctioned segregation and the civil rights movement, many HBCU began to struggle to keep their doors open, due in part to declining enrollments, NBC News reported in 2020 prior to the COVID-19 pandemic.
During the 2018-19 academic year, more than 6,000 fewer students attended the 101 HBCUs across the nation. The 291,767 total enrollment at HBCUs that year marked the lowest total since 2001, when there were 289,985 students at HBCUs.
Dr. George French, president of Clark Atlanta University, told ABC News that the Supreme Court's ruling was a "disappointment within the HBCU constituency" because the decision to ban race conscious affirmative action at universities "appears to be intentional in eroding what was an effective remedy for racial disparities in our nation." Still, the HBCU community sees an opportunity, he added.
French called for more resources to help HBCUs build capacity to meet the needs of the anticipated influx of students.
"Not just financial, but programmatic. For example, if you come to an HBCU for one of our traditional disciplines – law, medicine, education – that's one thing. But if you come for thermonuclear science, we don't have that capacity," he said.