On the Rise: Danielle Pinnock Was 'Done With Acting' When She Landed The Role On 'Ghosts'
The CBS comedy airs Thursdays at 8:30pm/7:30pm CST.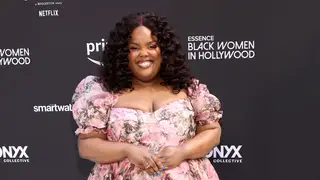 Danielle Pinnock has been grinding for years from AT&T commercials to small roles on your favorite hit shows. On the verge of giving up on Hollywood, she finally landed her big break in the hit CBS comedy Ghosts, which just got renewed for a third season. Ghosts follows a married couple who inherit a mansion that is haunted by some lively ghosts. Pinnock plays Alberta Haynes, a lovable and flamboyant jazz singer from the 1920s. The role allows Pinnock to not only flex her acting chops but vocals as well. Her performance earned her a 2022 best supporting actress nomination from the Hollywood Critics Association Television Awards.
In Pinnock's first interview with BET.com, Pinnock goes deep about the grind of Hollywood, advice for other actors and the 2018 role on Scandal that changed her life.
BET: You've been grinding for a long time and now you are in the second season of the hit series Ghosts. How are you feeling at this moment?
Danielle Pinnock: I have to say I was at a point in my career where I thought I was done acting. I don't know if I've actually ever shared this before, but it was right before the pandemic hit. I had auditioned for a series regular on a TV show, and no was the answer. I developed a lot of anxiety around auditioning and got this paralyzing fear that I wasn't good enough. That's when impostor syndrome started setting in. I actually stopped auditioning for over a year because I was terrified of going back in and getting denied, yet again. So, the pandemic happened, and I got the audition for Ghosts. I was so captivated by the role. Then I said, "You know what, let me put myself on tape for this." And the great thing about this, all of these tapes were happening in a space that I felt most comfortable in – they were in my kitchen or in my living room. My mama was down the street. If I needed any costumes or anything to make myself look like the character, she was there to support me in that.

I don't necessarily know if I would have booked this if it was just a regular audition because the waiting room probably would have stressed me out. I had confidence that I've never had before doing this audition on Zoom and the screen test on Zoom.  I just have to say, that is just a testament to just being in my pajamas and in my office. So I'm grateful, the pandemic was a blessing for me and it was also a curse because I'm immunocompromised. I had to stay in the house. I wasn't one of the girls that were out here on the streets. I couldn't afford to because I have lung disease. So it was a surreal experience in the fact that the world was in such havoc. And then I was getting my blessing at this time. God really truly works in mysterious ways.
BET: For those who may not know, tell us about your character Alberta Haynes in Ghosts?
Danielle Pinnock: Alberta is a 1920s prohibition-era jazz singer. She is full of life. I like to call her a hot mess with a heart of gold. She gets people together. She's a truth-teller. Something that I just love that our writers have incorporated, even more for season two, is with this incredibly confident character, we're now getting to learn and share more about her vulnerability. It has just been an amazing experience being on the show because it is incredibly diverse. But I also feel like a lot of times on TV, even on diverse shows, you don't get the full story about the diverse characters. There's diversity behind the camera, and in front of the camera as well. And if our showrunners don't know the answers, they will always outsource to the people that do. That's the beauty of this series as well. I feel like the phrase "representation matters" is more than just on camera, it is behind the scenes as well.
BET: You have a long resume, but you were also in a 2018 episode of Scandal. You played a hairdresser in the famous beauty shop scene between Kerry Washington and Viola Davis, what are your memories of filming that scene?
Danielle Pinnock: It was a masterclass to see these incredible titans in our industry -- to get that orchestra seat, it was incredible. Viola Davis is in the scene with her binder full of notes. Kerry is working her way through the scene, saying, "Viola, let's try this." Then Tony Goldwyn, who played Fitz, is directing. In his ear is Shonda Rhimes. There was a moment where I had to ask for a line because I was so invested in what was happening that I forgot – it was insane! [Laughs] They were the kindest humans ever. We took pictures together. I just saw Viola Davis at the Grammys. And she said, "Look how far you've come." I almost cried. So they have been so kind to me. I cannot wait to work with both of them again, in the future. It was a life-changing moment for me as an actor.  It truly felt like my vision board was being manifested, but it also felt like God was saying, "You're in the right place. You're right where you need to be."
BET: So you're on a hit series now, but what else is on your vision board for the future, what do you have coming up?
Danielle Pinnock: Honestly, I feel like my career is just beginning. I see such a bright future for myself, not only on television but also in film. I'm a true multi-hyphenate, in the fact that I was a playwright. I would love to convert some of those plays into television or into films at some point. I have the great honor of developing an animation right now that Taraji P. Henson is executive producing – that's called Unmentionables. I just feel like right now, for the first time in my career, the world is my oyster. I just need to keep moving with gratitude, and precision. Also, still audition, but not be afraid to create opportunities for myself as well, too.
BET: For the actor right now who may be reading this and might consider quitting like you were before the pandemic, what's your advice to them?

Danielle Pinnock: My advice would be it's okay to pause. It's okay to pause because hearing those constant nos, it does something to your mental health. It is okay to redirect. But the most important thing I would say to get you through those nos is to create your own. Don't be afraid to write that pilot. Don't be afraid to pivot. It is possible to, literally, create your own legacy. There are multiple avenues in this industry to be successful. Take the pause to figure out what you want to do next, that would be my biggest advice.
Watch season two of Ghosts Thursdays at 8:30pm/7:30pm CST on CBS. Also, catch Ghosts currently streaming on Paramount+.