Gabrielle Union Invited Her Uber Driver To Use Her Bathroom And What Happened Next Left Her Shook
Gross!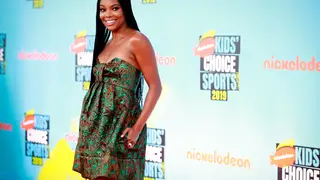 There's no doubt Gabrielle Union dedicates time to making the house she shares with her husband Dwyane Wade a home, but we are positive the famed actress wasn't expecting her Uber driver to take up residence in her bathroom for the beginning of 2020.
According to a tweet posted by the Being Mary Jane actress on New Year's Day, she responsibly opted to take an Uber home after a long night of celebrating. 
Thankful for getting her home safely, Gabrielle claims she let the driver use her bathroom. That's when things took an unexpected turn, as the driver didn't flush the toilet until 15-20 minutes later. 
"Trying to be responsible & use UBER & our driver asked to use our bathroom 15-20 min later. Dude dropped a deuce," she tweeted. 'Im pleased we clearly have a home & available reading material that screams 'Come in, get comfortable and drop the kids off at the pool.'"
She added, "Welcome to 2020 folks 💩🤗."
A day later, Uber responded to the star's experience stating, "That definitely should not be happening, @itsgabrielleu! Send us a DM with your email address or phone number so our team can follow up with you."
It is unclear if Gabrielle replied to Uber's request for more information. 
Honestly, we've always pegged Gabrielle as a hospitable hostess, but we are sure she never expected her Uber driver to kickstart her New Year by christening her family's abode. Hopefully, this experience didn't flush down any future hospitality from the gracious star.