Snoop Dogg, Kim Kardashian Facing Backlash For Endorsing Controversial LA Mayoral Candidate
Billionaire Rick Caruso is a former Republican who is running on a "fund the police" platform.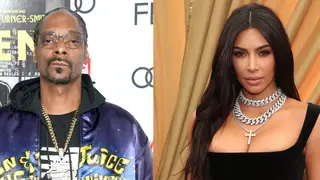 Kim Kardashian and Snoop Dogg are both receiving criticism over their recent endorsements for Rick Caruso, a billionaire and former Republican running for mayor of Los Angeles.
According to the L.A. Times, Caruso has promised to add 1,500 police officers and eventually balloon the LAPD staffing level to a record high of 11,000 cops (currently, it employs around 9,350).
During a Zoom call last week, Snoop endorsed the "pro-centrist" candidate, saying: "Look at what he stands for. Look at what he's about. You got my support. We're a part of whatever you're a part of, as far as bringing love to the community and keeping people there that were a part of the community."
Likewise, Kardashian said she met with Caruso in a video posted to her Instagram Story, adding, "I really believe in what he stands for."
Kardashian pointed to two major issues in the race – crime and homelessness – which she believes Caruso is prepared to take on. "I think that with him he can offer a better path to a better life for people that are homeless in California and in Los Angeles," she said in the video. "I really believe in what he stands for. I was really inspired by him."
The new endorsements have received criticism from folks on Twitter.
U.S. Rep Karen Bass, as opposed to Caruso, has stated she wants to hire 250 civilian workers to handle administrative tasks currently carried out by sworn officers and has called for the development of response teams composed of social workers, homeless outreach specialists and mental health clinicians to respond to certain situations rather than officers, according to The Times.
[insert split image of Karen Bass and Rick Caruso]
Currently, Bass and Caruso are in a dead heat at the top of the most recent polling surrounding the race. According to a mid-May poll, when voters were asked to choose between Bass and Caruso, the former leads 48 percent to 29 percent with 13 percent undecided. However, Caruso led the polling when potential votes were asked to decide between the full field of candidates. Both are running to replace Eric Garcetti as the city's next mayor.