65th Annual Grammy Awards: 5 Quintessential Songs By Steve Lacy
The singer-songwriter won 'Best Progressive R&B Album' at this year's show.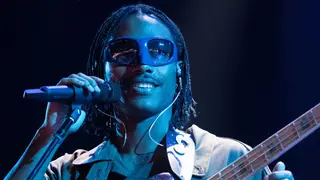 The 65th Annual Grammy Awards ceremony was Sunday night, and plenty of our favorites took home some hardware.
It's music that ties everyone together, and sometimes, you just need a little trip down memory lane in remembrance of why those nominated are so talented. For us, it's just putting together a little tribute to those who get us through the daily grind or are a point of relaxation when chillin' around the crib or riding around in the whip.
Receiving four nods in 2023, Steve Lacy was nominated for "Record of the Year", "Song of the Year", and "Best Pop Solo Performance," but ultimately won "Best Progressive R&B Album".
To commemorate his win, BET.com has compiled five quintessential songs by Steve Lacy (see below).
"Mercury" (2022)

Steve Lacy had his breakout year in 2022, and a major part of that was his sophomore solo album Gemini Rights and the song "Mercury." While the track is quite different from the others on the project, it showcases the Cali singer-songwriter's versatility while simultaneously displaying Lacy's ability to push genres beyond their bounds.

"911 / Mr. Lonely" (w/Tyler, The Creator) (2017)

While not his song, "911 / Mr. Lonely" was a standout on Tyler, The Creator's landmark album Flower Boy. During "911", the first part of the transitioning track, Steve stands out with Tyler, along with Frank Ocean, who is also featured. Seriously, who could forget the infectious "Call me some time / Please bang my line, you know I'll answer."

"Dark Red" (2017)

Off of his Steve Lacy's Demo EP, "Dark Red" the song relays Lacy's extremely impressive ability as a songwriter as he internally battles with himself over a relationship that is getting out of hand. It's also extremely catchy, even with its dark undertones.

"Special Affair" (w/The Internet) (2015)

Perhaps the first real taste the world got of Steve Lacy was his production work with The Internet for their 2015 classic Ego Death. And of that participation, perhaps the preeminent cut he produced was "Special Affair", on which Syd The Kyd laces dreamy vocals over a low-key, deep/jazzy beat. It seems like everyone who worked on that project were able to become solo stars in their own right.

"Bad Habit" (2022)

It's the one that got him four Grammy nominations last year. It's his most famous song, and it proves he's a star. 'Nuff said.