Soul Train Awards 2023: 6 Burna Boy Songs Guaranteed to Crank Up the Heat at Any Function
Fuel the fire of any event with Burna Boy's scorching tunes!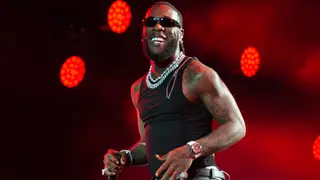 When it comes to setting the dance floor ablaze, few artists are doing it like  Burna Boy. With his distinctive Afro-fusion sound, the Nigerian native's music has an undeniable energy that can transform any gathering into an all-out dance extravaganza. Whether you're hitting the club or enjoying a night in with friends, Burna Boy's tracks are the ultimate recipe for a memorable time.
As you get ready for the return of the "Soul Train Awards," dive into six records by Burna Boy that'll elevate your party experience to a whole new level. From his early hits to recent chart-toppers, these tracks will surely have everyone on their feet, dancing to the rhythm of Burna's Afrobeat magic.
"City Boys"

Burna Boy breathes new life into Jeremih's "Birthday Sex" for his latest record "City Boys."

"Kilometre"

Burna Boy's 2021 "Kilometre" from his sixth studio album, "Love, Damini,"

is a high-energy anthem that will have everyone moving instantly. Its pulsating rhythm and catchy hooks make it impossible to resist.

"Last Last"

You can't mention Burna Boy's party-ready discography without mentioning the smash hit "Last Last." This record will get everyone singing along as soon as you hear the tape click.

"Ye"

This track became an instant anthem, not just in Africa, but worldwide. The song has the power to make even the most reluctant dancers want to move their feet.

"On the Low"

"On the Low" is a sensual and sultry track from his 2019 project "African Giant," that adds a touch of romance to the dance floor. The song's mellow vibe and hypnotic rhythm make it ideal for those intimate moments during a party.

"Gbona"

"Gbona" is a Afro-fusion record that has a way of energizing the room thanks to its vibrant beat and uplifting vibes.