Watch: Amber Rose Shocked AF When Joe Budden Accused Her of 'Coaching' Blac Chyna
The model was put in the hot seat.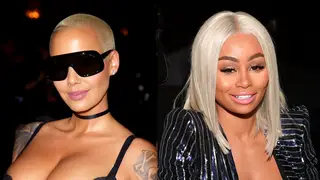 Amber Rose doesn't play when it comes to her girlfriends, and she showed just that when Joe Budden accused her of "coaching" her bestie, Blac Chyna, throughout Chyna's relationship drama with ex-fiancé Rob Kardashian on Complex's Everday Struggle.
Sticking up for her best friend, Amber said that she firmly believes that the former stripper is severely misunderstood.
"People look at Chyna and they just be like, 'She got Rob for everything, she's taking his money.' She's not that type of person," she said. "I remember when her and Rob met, how they fell in love and how happy they were. They're just not happy anymore. That's life. It just happens."
When Budden accused her of "coaching" Chyna when it comes to getting her way with men, Rose laughed before quickly shutting down his claim.
"I taught Chyna a lot about feminism, and now she's living it — she's living out all the bulls**t, basically," she said.
Touching on her friend's motherly side, though, she added, "Chyna is an amazing mom, she's an amazing person and she's extremely loving."
Watch her spill more on Chyna's failed relationship with Rob, and see her clarify her comments on women "manipulating men" for their own personal gain in the full interview below:
Get the latest on Blac Chyna in the BET Breaks video, above.