Chance The Rapper Reflects on the Decade-Long Impact of 'Acid Rap'
In a talk with BET, the Chicago rapper finds the mixtape continues to resonate with fans of all ages.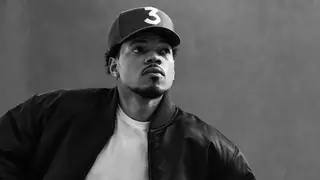 A 10-day suspension over marijuana possession in high school inspired Chance The Rapper's 2011 buzzworthy mixtape, 10 Day. The buzz for the project was big enough for the Chicago native to land a tour with Donald Glover (then Childish Gambino) following a guest appearance on the multi-hyphenate's Royalty mixtape a year later. Despite the sort of early notoriety many dream about at that stage in their music career, Chance needed to do something that would be more widespread and just bring him some money.
"When you open on tours and playing 150 or 200 cap rooms, you're not really making enough money to live," Chance explains to BET.com. "You're making enough money to get there and get back; get some food."
Though 10 Day was highly thematic with many school references, Chance wasn't in school anymore and couldn't rap about that anymore. He eventually found himself listening to a bunch of Jamiroquai and other artists within the acid jazz genre while indulging heavily with the popular psychedelic LSD.
These moments would set the stage for his 2013 breakout mixtape Acid Rap. According to Chance, he was looking to do an experimental project that was going to be super vulnerable and super themed as a way to look inward as well as outward.
"I was trying to give people that experience through music," explained Chance. "All the questioning and confusion but also the moments of enlightenment and feeling like you have it all figured out; the vulnerability, the examinations of culture or why people act the way they do or feel the way they do. I tried to put that in music so that people could feel how I was feeling and then I just started making a bunch of songs like that."
Though it ended up being so far off from the sound, Chance remembers the first song that made Acid Rap was the lead single "Juice." Donny Hathaway's "Jealous Guy" would serve as the sample for the Fox production where Lil Chano From 79 gives himself props regardless of the obstacles with verses like "Told you I ain't worried, I ain't scared of the booth / All you can do is spit a verse of the truth / Merge the mixture with the purest of fruits / And the thirst is the worst, it's the curse of the juice!" Though it took a bit longer for tracks like "Juice" to make digital streaming platforms like Apple Music and Spotify due to sample clearance issues, Chance even used the opportunity to promote his Chicago-based non-profit organization.
There isn't a better example than Acid Rap opener "Good Ass Intro '' which takes an interpolation from Kanye West's(another huge influence on the album)"Intro" featuring John Legend that was on Ye's 2003 I'm Good mixtape. It serves as a reminder of everything that Chance stands for lyrically and musically. The self-assured and humorous rhymes of "Balancing on sporadicity and fucking pure joy / Nightly searches for a bed and I just came off tour with Troy" alongside a slick harmonized hook of "Better than I was the last time baby" with BJ The Chicago Kid, Peter Cottontale, Lili K. and Kiara Lanier. Meanwhile, that's matched with production from Peter Cottontale, Cam O'bi, and Ponce, which mixes fast pace Chicago Jookin with these jazzy horns.
"My mom used to always tell me that artists are judged not by how great their first project is but how their second project does," said Chance. "It was my second project so the first thing I got to say is 'even better than I was the last time.' I really put a lot of pressure on myself to make Acid Rap this monstrous next step and I did that."
The mixtape was quite the leap, with memorable tracks from "Cocoa Butter Kisses" featuring fellow Savemoney brother Vic Mensa and Twista to "Acid Rain," a favorite of former U.S. President Obama. Didn't hurt that Acid Rap also had some heavy guest appearances from Donald Glover, Action Bronson, and Ab-Soul, among others. Beyond that, the mixtape also became the first high-profile appearances from future popular emcees from Chicago like Saba and Noname.
Then there's the iconic cover designed by Chi-town graphic artist Brandon Breaux. Breaux, who worked on the cover for 10 Day and Chance's Grammy Award-winning album Coloring Book, initially used a 2012 photo of Chano from South by Southwest and knew there couldn't be a better visual representation of the album.
"I remember him calling me and being like yo this is going to be the one," said Chance. "He painted it in a matter of days. I feel like that was also probably the earliest I had some cover art done. That was one of the few times where I had cover art done before most of the music."
Acid Rap was released during a transitional period in the music industry, as streaming platforms were gaining prominence. Some even consider the album a phenomenal send-off to the Blog Era. Regardless, the mixtape was initially made free, showcasing the potential for artists to leverage streaming services to reach a wider audience. Chance even mentioned that a music industry executive told him to his face that Acid Rap changed how majors thought about doing music.
"I think that Acid Rap, by playing by its own rules and being itself, made a lot of other powers around it conform to its success," explained Chance. "On a music and music consumption level, there's obviously sounds that came from it that influenced a lot of people. I saw Uzi recently shout out Acid Rap as a project that influenced 'em. There's a lot of artists that come to me to this day that are in them, like mid twenties that were in high school. And Acid Rap came out and it showed people, it showed me what was possible."
To celebrate Acid Rap becoming a decade old, Chance performed some spot dates in August at Chicago's United Center Chicago and Barclays Center in Brooklyn before wrapping up at the Kia Forum in Inglewood on September 21. However, the sold-out crowds and excitement around the shows don't surprise him. However, what surprises Chance the most is how much the album still resonates with fans, young, old, and even those who hadn't even been born yet.
"It's 10 years later and people know all the words and remember all the moments and videos that have memories that they created in their own lives too," Chance said. "You don't really get to see it until you lock eyes with somebody in the crowd. That's really fitting for me. Lyric for lyric; that's a moment. I've had a few moments where I got emotional naturally at the shows so far. When you get those moments, it does surprise me and it does have a real emotional impact."