Reggie Bush Headlines New Inductees To College Football Hall Of Fame
Some fans are urging the NCAA to return Bush's Heisman Trophy, which the NCAA vacated over a rule infraction.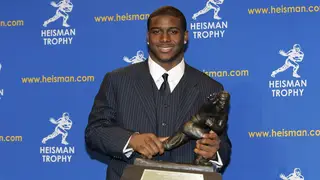 College football celebrated one of its star's gridiron achievements despite taking back its highest award for individual performance over an NCAA rule infraction.
The Associated Press reported that Reggie Bush, USC's electrifying running back who won the Heisman Trophy in 2005, was among 18 players named Monday (Jan. 9) to the 2023 College Football Hall of Fame.
Bush, who retired in 2017 after 11 seasons in the NFL, tweeted his reaction, which included the hashtag "#fighton."
The Trojans running back was on two national championship-winning USC teams in 2003 and 2004. In the 2005 season, Bush ran for 1,740 yards, scored 19 touchdowns, won the Heisman Trophy and led the team to another title game.
During his college football career with the Trojans, Bush amassed 3,169 yards on 7.3 yards per carry and scored 42 touchdowns. The NFL's New Orleans Saints selected Bush No. 2 in the 2006 draft, and he went on to play 11 seasons professionally.
His college career was tarnished when the NCAA vacated Bush's Heisman win in 2010 and asked him to return his trophy. An investigation determined that he and his family received impermissible benefits from a marketing agent while he was a part of the Pac-12 program at USC.
The NCAA has rejected calls to reinstate the Heisman to Bush even though rules about college athlete compensation for endorsement deals are less restrictive now.
Still, news that Bush was elected to the College Football Hall of Fame prompted scores of his fans to urge the NCAA to return the Heisman to him.
Florida quarterback Tim Tebow, who won the Heisman in 2007, also headlined the 2023 Hall of Fame class. Tebow won two national championships with the Gators and was drafted No. 21 in the 2010 NFL draft by the Denver Broncos.
The rest of the 2023 College Football Hall of Fame class includes: Dwight Freeney of Syracuse; Luke Kuechly of Boston College; LaMichael James of Oregon; Michael Bishop of Kansas State; Eric Berry of Tennessee; Robert Gallery of Iowa; Derrick Johnson of Texas; Bill Kollar of Montana State; Jeremy Maclin of Missouri; Terrance Mathis of New Mexico; Bryant McKinnie of Miami; Corey Moore of Virginia Tech; Michael Stonebreaker of Notre Dame; Troy Vincent of Wisconsin; Brian Westbrook of Villanova; and DeAngelo Williams of Memphis.