Kanye West Goes On Fox News To Discuss 'White Lives Matter' Controversy
The rapper and designer appeared on Tucker Carlson's show.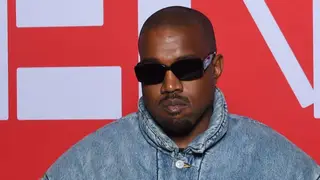 Kanye West is doubling down on his controversial takes. After setting fire to the Internet with his "White Lives Matter" t-shirt which he debuted at Paris Fashion Week, the rap mogul gave an exclusive interview to Tucker Carlson on Fox News to share his thoughts on Donald Trump, abortion and…Lizzo.
But first, Kanye explained why he wore the t-shirt that many say pushed things too far. "I thought the shirt was a funny shirt," he said. "I thought that the idea of me wearing it was funny."
West said his father, who he claims is a former Black Panther, noted that it was just a "Black man stating the obvious." He then reiterated that "the answer to why I wrote 'White Lives Matter' on a shirt is because they do. It's the obvious thing."
The Yeezy designer also talked about another article of clothing that sparked a ton of conversations and controversy: the red MAGA hat he frequently dons to show his support for former president Donald Trump. "My so-called friends-slash-handlers around me told me if I said that I liked Trump that my career would be over, that my life would be over," he said. "They said stuff like, 'People get killed for wearing a hat like that.' They threatened my life. They basically said that I would be killed for wearing the hat."
The conversation later shifted to Lizzo and her body. "When Lizzo loses 10 pounds and announces it, the bots … attack her for losing weight because the media wants to put out a perception that being overweight is the new goal, when it's actually unhealthy," West said. "If someone thinks it's attractive, to each his own. It's actually clinically unhealthy. And for people to promote that, it's demonic."
He went on to claim that obesity is "genocide of the Black race. They want to kill us in any way they can."
The second part of Kanye's interview with Carlson, which was filmed in Kanye's Los Angeles office, will air on Friday.
Watch the full interview below: