Angela Simmons And Justina Of Matte Collection Share Their Biggest Tips To Being Bikini Confident This Summer! [EXCLUSIVE]
BET.com spoke to the ladies to find out about the 'Confidence Campaign' that's taking the internet by storm.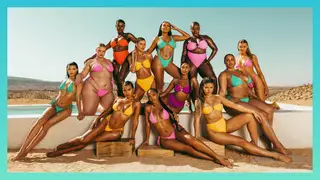 Let us be the first to tell you that this summer is all about celebrating your natural curves! After spending countless hours indoors, we are all looking forward to the opportunity to have fun in the sun. Clearly getting the memo, Justina of Matte Collection recently launched the Confidence Campaign, a swimsuit campaign designed to celebrate the curves of everyday women!
Keep scrolling to see the body-positive movement that features one of our faves, Angela Simmons!
Whether you want to rock a bikini by the pool or strut on the beach in a revealing swimsuit, the Atlanta-based fashion and swimsuit brand has your back. We recently had the opportunity to chat with both Angela and Justina to learn more about the body-positive campaign, and we were seriously impressed by the inclusivity of the movement.
Justina told BET Lifestyle that she created the Confidence Campaign to help everyday women live their best life this summer without the worries of judgment. "I want to make sure that every woman feels sexy, beautiful, and confident while spending time at the pool and on the beach. Everybody deserves that!"
For Angela, it was a no-brainer to join the movement to not only talk about body confidence, but also showcase it. "I'm really big on being confident in your own skin, so I knew the campaign was going to be amazing," she explained. "Seeing other women walk in confidence is everything to me!"
Angela is without a doubt one of the first celebrities that comes to mind when discussing stars  who proudly embrace their curves on social media. FYI: She's always sizzlin' on our timelines in sexy swimsuits! 
Nevertheless, the multi-hyphenate star and mother-of-one admits she wasn't always comfortable with her body.
"I struggled with [body positivity] growing up. Like literally, I have old journals where I spoke about my body—and not in a good way," Angela shared candidly about the struggles of accepting her natural curves as a result of social expectations to look a specific way. "At that time being super skinny was in and I was a young girl with curves. Back then, I didn't understand my curves, so for me, it's so important to speak about it now."
Angela went on to share this ageless advice to help others struggling with body image, "It's not an overnight thing. Be gentle with yourself. Be kind to yourself. Don't speak negatively about yourself. Love yourself and continue to grow. That doesn't mean stop seeking to become better, but really love yourself in the moment so that you're not causing yourself anxiety to get to the place of perfection."
Justina echoed Simmons' sentiments, adding that body positivity is all about "embracing" what you have and "owning it."
To those who want to rock a bikini but may be struggling with blocking out the negativity of others, Justina reminds us, "Only you can make you happy. If you put it on and you're comfortable and happy with it, activate your tunnel vision. There's always going to be somebody who has something negative to say. Do what makes you happy!"
Editor's Note: This story/interview has been edited and condensed for clarity.