Joe Budden Slams Kendrick Lamar And Eminem's Track "Love Game"
He shared his thoughts on the 'Joe Budden Podcast' about the 2013 song.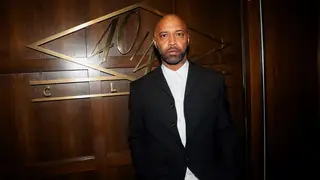 Joe Budden is sharing his thoughts about music and Kendrick Lamar and Eminem's track "Love Game" made the top of his list but not for good reason.
Heading over to the Joe Budden Podcast, he said the song was "high on the list" of "worst records ever made by two superstars." The hit was released in 2013.
"I think 'Eminem we know you can rap' is an unfair criticism," Budden said. "He has been doing this sh*t. My beef is with people who keep letting him do this on their songs. Shut that sh*t off! But you are not chopping Eminem off but you can't rap for 3 minutes on my song, dog. He's one of the rappers that you just never play around baddies."
During the episode, Budden also touched on how he felt about Earl Sweatshirt's and his artistry and admitted that he hasn't listened to his latest project and doesn't plan on it.
"Is [Earl] on Tyler's last album?" Budden asked. "Is [Earl] on Tyler's album before that album? How about the one before that one? All right, yo. Forget it. But you expect me to listen to it. [His] man won't call him to come to the f*****g studio. Yo, when your man stops inviting you to the studio, you're not getting me to listen to what you're doing. Sorry, that's like a rule of thumb for me."
Budden made it clear that he was just being honest.
"Hell no, I ain't hear that b******t! And I'll tell you what, I'm never gonna hear 'em! I am never gonna hear that," he said. I don't care. That s**t could be [Michael Jackson's] Thriller. When would I put that on?"