Wake Up! 11 Celebs Who Are Doing More For Puerto Rico Than Donald Trump
Hurricane Maria devastated the island.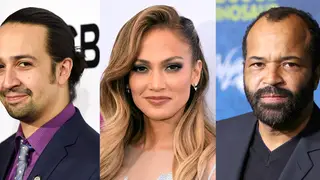 While #NotOurPresident Donald Trump whining about Americans kneeling during NFL games and calling peaceful protesters "sons of bitches" is dominating headlines, there are people suffering on the beautiful island of Puerto Rico.
Hurricane Maria has completely devastated PR, leaving the entire island without power. The devastation has been called "apocalyptic" and the governor of Puerto Rico, Ricardo Rosselló, told CNN, "We need something tangible, a bill that actually answers to our need right now. Otherwise, there will be ... a massive exodus to the (mainland) United States."
Our thoughts go out to everyone impacted by the hurricane.
See the devastation the hurricane has caused with BET News, above.
Sadly, Trump has done nothing to help the island, which — let's not forget — is a part of the United States of America (guess #MAGA doesn't apply here, as far as Trump is concerned). Unsurprisingly, the "elite" celebrities whom he is constantly slamming are stepping up in his stead: Everyone from Jennifer Lopez to Ricky Martin are doing more for PR, which is a U.S. territory, than the POTUS.
See the celebs below who are opening their wallets, raising their voices and lending a hand: 

Jennifer Lopez

Marc Anthony

Ellen DeGeneres

Jeffrey Wright

Jorge Ramos

Rosie O'Donnell

Alyssa Milano

Gina Rodriguez

Ricky Martin

David Axelrod

Lin-Manuel Miranda