Lil Kim's Reunion With Janet Jackson Is Everything You'd Expect It To Be
The legendary Brooklyn rapper paid homage to Michael Jackson during a recent guest set.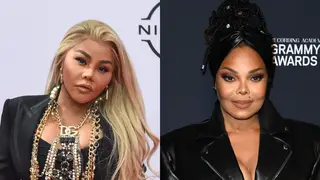 Lil Kim is paying homage to some of the greatest musicians ever.
When filling in for Ludacris' opening set during Janet Jackson's Together Again tour stop in Allentown, Pennsylvania, the legendary Brooklyn rapper paid homage to Michael Jackson during her performance. Afterward, MJ's sister joined Kim backstage in an emotional embrace, as Kim gave her all of her flowers.
"She needs to know this," Lil Kim said in a video posted to Twitter. "First of all, I have to start from the beginning. Michael was my favorite, my number one. And then when Janet came, I said, 'Oh hell no? You mean to tell me there's a girl Michael?!'"
She continued: "When I tell you I was just in love from the moment I saw her. I always felt like we looked alike. I always felt we have the same energy. She just gets it. Superstar, talented, just everything! Beauty. And she always represented. And I'ma tell y'all right now – she is so pulled up, so graceful. But you know she can [fight]. That's her secret. Don't tell nobody! She be getting with it. She is with it. So I love it.
"She represented me, a hood girl! I'm from the hood. I knew I could rap, but I was like, I wanted to do something different. I didn't want to be the normal rapper. I love MC Lyte, I love Salt-N-Pepa, I love Queen Latifah – but I was like, 'I want to do something different! I want to be a rap Janet Jackson,'" Kim added. "Don't play wit it! Love her. There's no one who understands the business and who can fight through the adversities and still remain poised, still hold that crown."
Jackson also returned the love, taking a picture with the Queen Bee while providing some kind words about her.
"Kim, thanks so much for filling in while Luda was out getting his much deserved star on the walk of fame," she wrote. "Love u sis."