T-Boz and Chilli Reveal a Broadway Play About TLC is in the Works
They're also working with the folks from the acclaimed "Hamilton" play.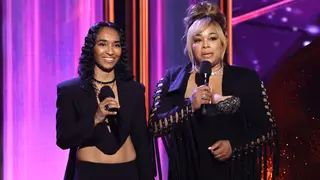 The iconic 90s R&B girl group TLC is gearing up for a range of upcoming projects, one of which is a Broadway play.
The remaining band members, T-Boz and Chilli, revealed the exciting news during an appearance on a panel at '90s Con. T-Boz, born Tionne Watkins, told the audience, "We're working on a Broadway play."
Chilli, whose real name is Rozonda Thomas, followed up with, "The cool thing, we do have a lot of people that worked on 'Hamilton' working with us for ours," People reported. T-Boz added, "That means we'll have music for the play and a TV show we can't talk about."
The "Waterfalls" musicians initially hinted at the upcoming production in 2019 while talking with Cheddar. T-Boz told the outlet that the group had much more to share with their supporters. "We didn't tell everything. We have so many stories to tell," the 53-year-old explained. "We didn't tell it all in our biopic we did with VH1. A lot of good stuff. It's gonna be very emotional but a good ride."
T-Boz also made mention of the upcoming endeavors at last year's '90s Con, although she didn't share many details. It's unclear when showings of the Broadway play will start.
The duo have released several television series covering their legacy over the years, including a 2013 biopic, "CrazySexyCool: The TLC Story" and their Lifetime documentary, "TLC Forever," which also looked into their current personal lives.