K. Michelle Opens Up About The Horrors Of Removing Butt Injections
Brace yourself, this is graphic.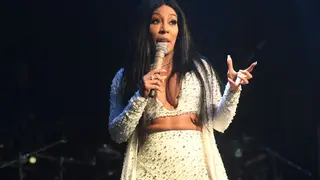 K. Michelle has been open about her struggles with plastic surgery and especially the aftermath of butt enhancements. This month, she spoke in graphic detail about the procedure that will make anyone think twice about getting a new booty.
In an interview with People.com, the singer said, "I wanted to look like a Coke bottle" and she got her hips and butt enhanced. She heard about a man in Atlanta who illegally did the procedure, "He wasn't a doctor — it was black market, it was these 'hydrogel' injections — that's what they were being called. When I found out my favorite rapper did it, that's when I decided, 'I'm getting it done.'"
By 2017, she was having pain in her back, legs and she was experiencing migranes. People.com reports, "Doctors thought she may have lupus, before realizing the silicone had spread down her legs and was damaging her tissue and threatening her overall health."
She received lipo suction to attempt to remove the silicone, but it only spread. While she was on tour, K. Michelle ended up in the hospital. She had to get two blood transfusions and she needed four surgeries. Late April was one of her first times, since the complications, taking a shower without a nurse, she revealed on Instagram. 
However, it's not over. She will be getting reconstrucive surgey in August.
Kudos to K. Michelle for being brave enough to tell her story. We hope she has a speedy recovery from her August surgery.