Lupe Fiasco Talks Challenges of Being a Muslim Rapper
Chicago MC speaks on religion, Jay Z, Kanye West and more in new interview with Katie Couric.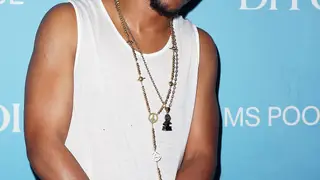 Lupe Fiasco opened up about being a Muslim rapper and his relationship with Jay Z and Kanye West in snippets from his sit-down interview for Yahoo's digital Web series, World 3.0, with Katie Couric.
When asked by Couric if it was "challenging to be a Muslim and a rapper" given the industry's glorification of alcohol and drug use, the Chicago native explained how he stays away from temptation. "It just depends on who you put yourself around," he said. "I'll see friends who smoke and unfortunately some friends who drink, and some other things that we're not supposed to be seeing or doing…at the end of the day we're human."
Islam is a tool for personal improvement but not a means to look down on people, Fiasco said. Even though he abstains from drinking and smoking, he doesn't judge those who chose a different route. "I try not to do that with anybody, any capacity. My fellow Muslims, non-Muslims, Christians whomever," Fiasco pointed out. "At the end of the day we're human, we have faults we make mistakes."
On how he linked with West, Fiasco noted that both are from the Windy City, and broke down how Hov came into the picture. "Jay Z invited us [West and I] out to come to New York and invited us to go to Roc-A-Fella," he recalled. "I took him as a mentor in a certain capacity, to the point where it developed into him executive producing my first album [Food & Liquor]."
Fiasco is currently working on his fifth album, Tetsuo & Youth. His full talk with Couric debuts on Yahoo! Wednesday (June 11).
(Photo: Judy Eddy/WENN.com)