Master P to Wife: Dump Your Boyfriend If You Want Your Keys Back
Sonya Miller claims her estranged hubby kicked her out of their house.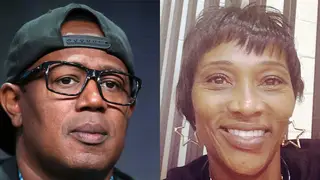 Looks like there's more than meets the eye in the divorce case of Miller vs. Miller. After Master P's wife Sonya Miller fired off claims that her estranged husband had literally locked her out of their home (where she still lives with four of the couple's seven children), as well as cutting her off financially, the rapper-entrepreneur is sharing his side of the story with TMZ.
He says that he'd happily offer a fair divorce settlement and let Sonya back into their home, on one condition: she dumps her boyfriend. In fact, P. Miller claims that the reason he kicked Sonya out in the first place is that she's been letting her new man live there as well, and focusing more on him than on their kids. 
Master P goes on to refute Sonya's claims that she made No Limit and deserves half his fortune because of it: "You know what? If you that much of a business woman, you should have something going on right now."
He does reiterate, again, that he'd be happy to provide for Sonya — including paying for rehab — if she would "do the right thing" and focus on their kids.
Watch Percy's full rant — which took place in a Calabasas strip mall with his four young kids standing right behind him — below.
(Photos from left: Frederick M. Brown/Getty Images, Sonya Miller via Instagram)