Eddie Murphy Insists Martin Lawrence Pay If Their Children Get Married: 'The Wedding Better Be Wonderful'
Eric Murphy and Jasmin Lawrence went public with their relationship in June 2021.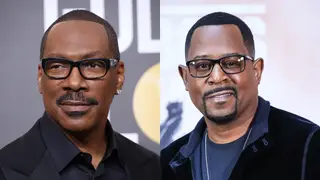 Could wedding bells be ringing for Eric Murphy and Jasmin Lawrence, who went public with their relationship in June 2021? Some fans seem to think so after the couple's celebrity fathers publicly debated about potential wedding expenses.
While Eric and Jasmin are not yet engaged, there's already talk about who's paying for the possible wedding.
While it may be tradition for the father of the bride to pay for the wedding, last year, Martin Lawrence joked during his June 2022 appearance on Jimmy Kimmel Live, that Eddie Murphy would be paying for the couple's wedding. "I'm gonna try to get Eddie to pay for it," he shared.
Eddie recently responded to Martin's comment, insisting they stick to tradition.
"That's not how it goes," he quickly responded when asked about the possibility of funding the wedding during an interview with Etalk, a Canadian outlet. "My daughter [Bria] just got married, and I had to pay— really had to pay."
He continued, "You have to do the same, Martin. Don't try to switch it up—don't try to change no s**t, do no Hollywood switch. You are paying for the wedding if it goes down. Martin is paying."
He playfully warned the fellow comedian, "And the wedding better be wonderful."
ICYMI: In January, Eric expressed his love for Jasmin during her birthday with a sweet message via Instagram. "The moments we spend together make time stand still," Eric wrote. "You make me a better man in every way. Thank you for being such an inspiration in my life. Thank you for being the LOVE of my life!"