Cops Claim Self-Defense After Shooting a Sleeping Couple
They believed the woman had a gun.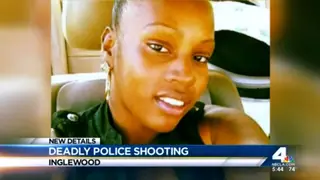 Marquintin Shandlin, 32, and Kisha Michael, 31, are the latest victims of police brutality. The couple were killed in Inglewood, California, after police claimed that they felt threatened and believed Michael was carrying a gun. But in a shocking and disturbing revelation, Inglewood mayor James Butts revealed that the man and woman were actually unconscious when police opened fire.
Few other details are known and the LAPD has declined to respond until they "collect all the details," of the killing. According to the Los Angeles Times, Trisha Michael, Kisha's sister, said that she has been trying to get more details on what had actually taken place, but the police had left her questions unanswered. Trisha also stated that her sister had never owned a gun.
Even before the revelation that the two victims had been sleeping and therefore couldn't have posed any sort of credible threat, local activist Najee Ali weighed in saying that just having a gun does not give the officers the right to open fire. "Even though she may have had a gun, that does not mean she was a threat to officers," Ali said. 
After a recent news conference, relatives of the slain victims went to the Inglewood Police Department headquarters demanding to speak with the chief of police. One held a sign that said, "Murdered by Inglewood Police," and another shouted, "It could be your child next. You never know."
Shandlin and Michael were both single parents.
Police brutality and the murder of Black people at the hands of law enforcement has become a nationwide conversation. Recently, presidential hopeful Bernie Sanders sat down with BET to discuss why he believes the epidemic persists. Watch below: