'Straight Outta Compton' Star Arrested for Reportedly Beating Up a Security Guard
It went down at a fancy Miami resort.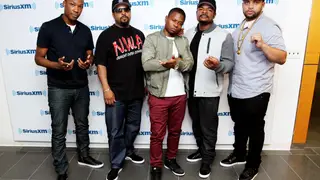 Life came a little too close to imitating art for one of the stars of Straight Outta Compton, who was arrested this week at a high-end Miami resort after instigating a brawl with a security guard.
The star is currently being held on bail at a Miami-Dade County jail.
The alleged culprit of the attack? None other than Richard M. Taylor, who played — you guessed it — Suge Knight in the film.
According to Page Six, Taylor was making "menacing" threats to the security guard at the Marenas Beach Resort, and eyewitnesses called 911 when they saw him "pick the victim up and slam him to the ground."
The drama started when the guard asked Taylor to take his foot off the table. After ignoring repeated requests by the same guard, Taylor then walked over the guard and pushed him in the chest, according to surveillance video. One thing lead to another, and when the cops arrived, the two had to be physically separated.
Taylor is now being held on misdemeanor assault charges. Get the scoop on another Compton star who was kicked out of a hotel for assault with BET Breaks, above.