Aww!: Jeannie Mai Reveals Name Of Baby And Meaning Behind It
The new mom opened up to People.com about the significance of the newborn's name.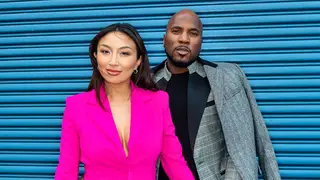 On January 11th, Jeannie Mai and Jeezy welcomed their first child together. Just days after welcoming the little one to the back world, the pair revealed their newborn's name during a tour of the baby Monaco's nursery in a People exclusive.
In a video on Mai's Hello Hunnay YouTube channel, she gives a tour of the light and airy neutral-colored nursery. The Real co-host glows and can't stop smiling as she shares her excitement about the reveal of the little one's new space. While mostly white and cream, the nursery features pops of baby blue and grey, with a towering giraffe and framed pictures from Mai's maternity shoot.
During the video, Mai also tells the sweet story of how she and her husband Jeezy arrived at Monaco's name. "I thought Baby J's name should be a J name because obviously Jeannie and Jeezy makes sense, but that wasn't the name that came to us," Mai explains. "What really came to us was how baby J came to fruition for us when we were dating."
She recalls a trip to Monaco, France, she and Jeezy took three years prior, where they discussed their future and expanding their family. In addition to inspiring the little one's name, the meaningfulness of the trip also shows through in the nursery decor—which Mai notes as the theme for the room. "That's really the theme of the nursery: what Monaco is about. Family, moments, traveling, discussions, important key points in my life and Jeezy's life that brought Monaco here," she adds.
Following the People exclusive, Mai would also give another exclusive to none other than her Real co-hosts during the Thursday episode. Adrianne Bailon excitedly revealed that she would be sharing the baby's full name and that the sex of the baby would be revealed at a later date during an on-air gender reveal.
Bailon pulls out a large golden envelope and reads a sweet explanation from Mai while revealing the name, "Three years ago, Jeezy and Jeannie were talking on a bridge in France, talking about what it meant to do life together. Here they decided to grow and raise a family together. Hence, they named their child after the city that changed their lives forever: Monaco Mai Jenkins."
The co-hosts all respond with much excitement and emotion in the wake of the reveal, sharing in love for the name and the heartwarming story that inspired it.
On January 11th, Mai announced the birth of baby Monaco on her Instagram with a photo of a footprint-covered blanket laying in the hospital bassinet and a little blue card that read "Baby Jenkins."
The caption read, "I asked God for a life of love and happiness. He sent me my family. Baby Jenkins is here. 🍼❤️"
The newlywed couple announced they were expecting on September 20th, with a breathtaking picture of Jeezy kissing Mai's belly as her beautiful blue gown blew in the wind with Santorini, Greece, as their backdrop.
We're excited to see more of the Jenkins!