#FriendshipGoals!: Gabrielle Union Gushes Over The Cute Baby Outfits Taraji P. Henson Sent Her
"It's the little shoes and these little, tiny socks!"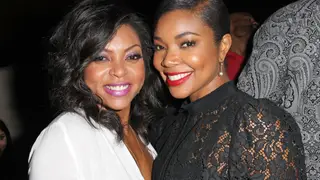 After announcing the birth of their new baby girl via surrogate, Gabrielle Union and her hubby, Dwyane Wade, have been flooded with love over the cuteness that is Kaavia James. Actors and ballers have sent their well wishes as well as a slew of gifts. The best ones so far have come from Gabrielle Union's Think Like a Man costar Taraji P. Henson.
See the precious baby gifts Taraji gave to Gabrielle below:
Ugh, how cute are these little 'fits? In the video, Gabrielle shows off a fall-themed dress with three matching bibs, a fluffy onesie with matching booties, as well as cute, little, pink shoes. In the video, Gabrielle gushes over the little shoes and socks while saying, "I mean, alright, Taraji. Ok!"
With both starlets reaching important milestones in their lives, including babies and engagements, it's nice to see them still supporting each other!